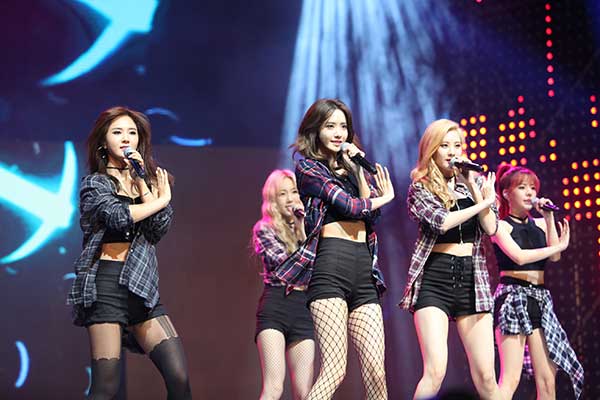 More than 1.57 million fans on the Chinese mainland watched the live streaming of a recent concert as eight young women from Girls' Generation, in thigh-high leather boots, black denim shorts and plaid shirts, sang and danced to the music of their hits at the Wapop hall in Seoul.
"It's exciting to know that we have many Chinese fans watching our show right now," says South Korean singer Im Yoona in Mandarin.
Chinese video websites see online live-concert broadcasting as a new growth point for their streaming services. Now, they are expanding their vision to include overseas artists.
Girls' Generation is part of performances of the Tencent K-Pop Live series, a collaboration between the Chinese Internet giant and Cantara Global, a South Korean content distributor.
Since February, the project has seen Korean-pop artists perform at least one concert a month, which is broadcast via Tencent Live Music.
The first performance was by T-ara, a six-member girl band from South Korea, which was followed by other pop groups of the country, including Sistar and 4 minute, with each attracting about 1 million live viewers online.
Wang Juan, chief editor of Tencent's video division, says the company's live-music business began last year as a comprehensive online service offering content from artists in Japan, South Korea, the United States and Europe.
She says the platform allows Chinese fans to interact with stars in real time, noting that South Korean pop concerts by Girl's Day and f(x) are coming in October.
Tencent started the program with Korean stars, Wang says, because they have a large fan following among young Chinese, thanks to Korean movies, reality shows and TV commercials.
Tencent was set up 10 years ago and now has more than 800 million users. The platform is useful to South Korean artists who want to break into the Chinese market, Wang says.
She also says that most of the live streaming is free for Tencent's subscribers now; fees will be charged once live-concert broadcasting becomes more standard fare.
Yin Liang, Chinese Internet company LeTV's music division director, says business models for this content are still evolving, and that prices depend on the length of shows and the popularity of the artists.
In August 2014, Yin initiated the idea of streaming live Chinese rock singer-songwriter Wang Feng's concert held at Bird's Nest. Each online user was charged 30 yuan ($4.80) for Wang's concert while prices for real tickets ranged from 280 yuan to 1,680 yuan.
Around 75,000 viewers watched the concert on LeTV.com. The successful live streaming gave Chinese Internet companies confidence about making money from live broadcasting of such events.
Since then, LeTV has broadcast live shows of domestic and foreign artists for a fee. From Sept 19-28, LeTV had a live-streaming schedule of 20 shows, including the 2015 Global Citizen Festival headlined by Beyonce and Coldplay on Sept 26 in New York City, with 18 yuan charged for each show.
"Though most Chinese Internet companies haven't made profits from live streaming yet, the situation is about to change," says Jiang Shu, CEO of Tree Music, a Beijing-based indie music company, who worked with Tencent on the June broadcast of Chinese rock singer Luo Qi's concert in Nanjing.
More than 1 million people watched the concert live online and within three days, about 4 million more tuned in.
On Oct 24, Chinese folk band Wild Children, which is under Jiang's label, will hold a Beijing concert, which will be streamed live.
"I will cooperate with more Internet companies to live stream shows," Jiang says.
"For us, the content provider, what we want now is the wider influence of the artists. As for profits, it's a matter of time."
Source:
http://www.chinaculture.org/2015-09/28/content_624352_2.htm