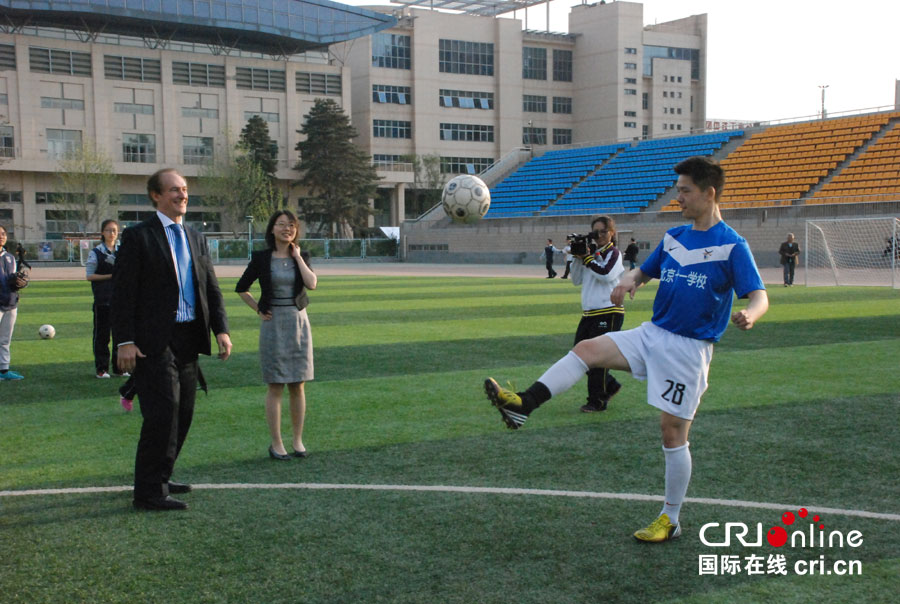 It's easy to see how much Chinese people love football; you just need to look at the excitement of the crowd during a Guoan game... ... they're coming along well and the team is full of enthusiasm. The best way to develop football is to focus on training the younger generations. In a few years they'll grow up to be a force to be reckoned with. This is where Beijing and China's hope and future lie."
For many Chinese, Argentina seems like a million miles away. It's a country that has produced numerous football stars, as well asdelicious barbeque. But for Gustavo Martino, Argentinian Ambassador to China, Argentina isthe home he misses, it's where he met his wife and learnt tango with her. Currently Gustavo lives in Beijing, a city that has become his second home.
A Dream of Tango Taking Flight in Beijing
Gustavo's eyes lit up when asked about tango, the quintessence of Argentinian culturein his mind. His love for tango is as strong as Beijingers' passion for Beijing Opera. Tangois a passionate and intense dance during which a man and a woman are locked in anintimate embrace.
"One of the reasons I came to China wasto promote tango. People here are interested inthe dance and if I can help popularize it, I willfeel very proud." Martino told us.
In 2013, with the help of Martino, Beijing was chosen as a regional site for the Mundialde Tango. One couple from Beijing stood out from the rest and went on to represent Chinain the competition in Buenos Aires. This wasthe first time Argentina had welcomed tango competitors from Beijing.
Gustavo smiled as he looked back on this.When he handed the trophy to the winners from Beijing, he couldn't help recalling the moment when he performed tango with his wife on their wedding decades ago. "When we decided to get married, we also decided to dance tango at our wedding. We found a tango instructor and wentto classes together. He would teach her some moves, and then taught me a while, and that'show we learned and fell in love with the dance. Since then, the rhythms of tango always echo inour hearts."
There are now a number of professional venues available for practicing tango in Beijing. Gustavo and his wife would still dance together in their leisure time. The promises they made toeach other and their shared love for tango have accompanied them and finally blossomed in Beijing as years passed by.
Source:
http://english.cri.cn/6566/2015/02/15/44s866499.htm