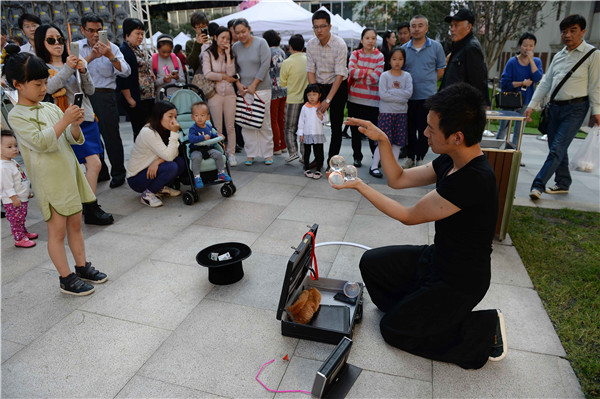 Street performers say licenses provide a place to show off their talentsand some much-needed social recognition, reports Li Xueqing in Shanghai.
One Friday afternoon in September, Xing Zhenhua opened his guitar case and began singing in front of a shopping mall in Shanghai's Changning district. As soon as he started, several urban patrol officers arrived on the scene.
Little under a year ago, musicians like Xing would have had to evade these officers, known as chengguan, like "a mouse escaping a cat" because they had no legitimate right to give street performances.
This time, though, he stood his ground safe in the knowledge that in his guitar case was a license issued by the Shanghai Performance Trade Association that permitted him to play his music in the street.
The 26-year-old was among 14 street performers who were granted licenses on Sept 16. The permit, which has been available since late last year, allows them to perform in certain spots and at certain times.
Xing's first two performances were from 3:30 pm to 6 pm on a Thursday and Friday. He said he earned about 100 yuan ($15), less than those who had later spots.
Performance times and locations are assigned by the association and are based on an individuals' schedule, as some need to fit the work around commercial appearances.
According to the rules, once the agenda is fixed, performers must show up and are not allowed to change the content, which is approved in advance. Violations can lead to a suspension of their license.
Despite his poor takings, Xing was upbeat. "It was better than I'd expected," he said. "More important, it helped me to get to know more people from all walks of life. On my first day, a white-collar worker told me he was a fellow fan of Beyond (a Hong Kong band) and we exchanged our contact information."
The college graduate from Bozhou, Anhui province, arrived in Shanghai in 2011 to look for work as a singer. He now teaches guitar and sings in bars, and he has signed up for several TV talent shows in the hope of being discovered.
Some street performers have gone on to become stars in China, such as Mandopop singer Xidan Girl and the band Xuriyanggang, but Xing said he is not counting on having the same luck. He applied for the license mainly to have a new experience, he said.
Shanghai began granting licenses to street performers in October 2014. All of the designated performance spots were originally in Jing'an district, but after almost 12 months the city has expanded the trial into Changning district.
So far, 30 licensed artists and craftsmen have been given permission to perform in the street, and according to the association's website they are becoming younger and better educated. Most of the 14 newly licensed performers are aged 25 to 35 and are artists trying to realize their dreams, it said.
To get a license, which needs to be renewed every three months, applicants are screened by a panel of judges to see what they have got to offer. For example, Xing sang and played guitar at his audition, while others made handicrafts.
Successful candidates are given training on the dos and don'ts, such as appropriate attire and the importance of not disturbing people, and they are warned not to set a price for people who want to leave money.
"People usually pay 5 to 20 yuan to buy our balloons," said Wang Luping, who along with his elder brother performs as a clown. The pair can sculpt balloons to create over 300 designs, from animals to popular characters like Baymax and Santa Claus.
"Once a man paid 100 yuan for one simple balloon," he said. "I was very moved that I made him a more-complex one instead."
Money is not the only motivation for street performers, though. "I just love kids, so seeing them happy makes me happy," said Wang's brother, Wang Shiping, who added that the duo's street performances have led to paying gigs.
"There are more parents now who want to hire clowns to make balloon animals at children's birthday parties. Some have even sent us as birthday gifts to their friends' children," he said.
The street licenses have brought performers not only a stable place to show off their talents and make a living, but also social recognition.
"My family used to oppose me performing in the street because they thought it was humiliating. Now, after the official recognition, they don't mind as much as before," said Yin Kai, a 38-year-old singer from Xuzhou, Jiangsu province.
He moved to Shanghai for a company job in 2000 but quit three years later to form a band with some friends. "At times, we need to slow down and think about life," he said. "I was confused, not knowing what I truly wanted."
He didn't expect the break would change his life forever.
In late 2007, Yin made his "guerilla" debut in the city's central People's Square and was dodging urban patrol officers until he eventually made it official by getting a license on Oct 25 last year.
More than half of his income comes from his street performances. He does arrange some paying gigs to help cover his basic living costs, but he said singing in the street is different.
"For commercial shows, you need to maintain a relationship with certain people. It's troublesome, as I'm not a sociable person," he explained. "When I'm singing in the street, although I still need to communicate with the audience to some extent, I'm free."
He added that he hopes in the future performers will be given more freedom.
"The regulations makes street performing more like a normal job. Shanghai is still experimenting, so I can understand why the authorities are cautious," he said.
"But these licenses should be more like driving licenses: They should tell you what you can't do, not where you can go."
Source:
http://www.chinaculture.org/2015-10/06/content_625232.htm