III . Investment
i. Policy and Administrative Rules
Catalogue of Related Laws
Foreign Trade Law of the People's Republic of China
Customs Law of the People's Republic of China
Law of the People's Republic of China on Import and Export Commodity Inspection
Law of the People's Republic of China on Chinese-Foreign Equity Joint Ventures
Law of the People's Republic of China on Chinese-Foreign Contractual Joint Ventures
Law of the People's Republic of China on Foreign-Capital Enterprises
Company Law of the People's Republic of China 
Law of the People's Republic of China on the Entry and Exit Animal and Plant Quarantine
Law of the People's Republic of China on Control of the Entry and Exit of Aliens
Law of the People's Republic of China on the Control of the Exit and Entry of Citizens
Securities Law of the People's Republic of China
Income Tax Law of the People's Republic of China for Enterprises with Foreign Investment and Foreign Enterprises
Individual Income Tax Law of the People's Republic of China
Law of the People's Republic of China on the Administration of Tax Collection
Environmental Protection Law of the People's Republic of China
Law of the People's Republic of China on Evaluation of Environmental Effects
Law of the People's Republic of China on Promotion of Cleaner Production
Law of the People's Republic of China on Prevention and Control of Desertification
Marine Environment Protection Law of the People's Republic of China
Law of the People's Republic of China on the Prevention and Control of Atmospheric Pollution
Law of the People's Republic of China on Prevention and Control of Environmental Pollution by Solid Waste
Law of the People's Republic of China on Prevention and Control of Water Pollution
Law of the People's Republic of China on Prevention and Control of Environmental Noise Pollution
Law of the People's Republic of China on Prevention and Control of Radioactive Pollution
Frontier Health and Quarantine Law of the People's Republic of China
Labor Law of the People's Republic of China
Trade Union Law of the People's Republic of China
Searching Website for the Related Laws
1 . Searching Systems of Laws and Regulations of China (website of National People's Congress of China)
http://law.npc.gov.cn:87/home/begin1.cbs
2. China Legislative Information Network System
http://www.chinalaw.gov.cn/jsp/jalor/index.jsp
3. Ministry of Commerce
http://www.mofcom.gov.cn
the above-mentioned websites are for reference only.
ii. Investment Catalogue of Advantageous Industries in Qinghai
1. Storage, fresh-keeping and processing of grain, vegetables, fruits, birds & livestock products, and aquatic products
2. Forestation and introduction of good breeds of trees
3. Reasonable development, utilization and protection project of water resources
4. Construction and management of roads, independent bridges and tunnels
5. Mining, smelting and processing of copper, aluminum, zinc (WFOEs forbidden)
6. Development and processing of potassium resources
7. Comprehensive utilization of saline resources and production
8. Production of new construction material
9. Planting and processing of Chinese and Tibetan medicine materials
10. Tourism areas (spots) and related infrastructure development, construction
and operation
iii. Procedure for Establishing Foreign Invested Enterprise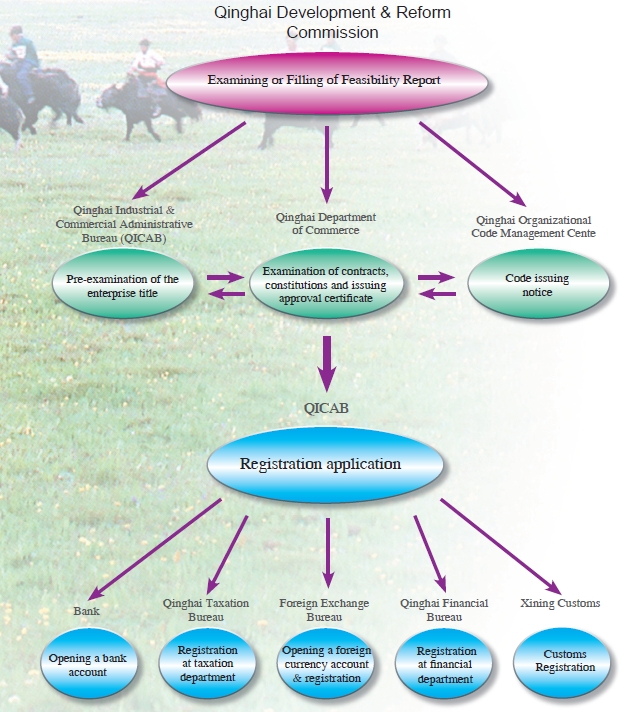 iv. Living Environment
Urban Residential Environment
There are one locally administrated level city-Xining City, two county-level cities--Delingha City and GolmudCity, and 114 counties with organizational systems in Qinghai Province. The rate of urbanization was 22% in the 5th Census, and the level of urbanization was 39%.
Since the implementation of Western Development Strategy, the construction of cities and towns is advancing through expanding the scale and improving the standard. During 1999 and the end of 2005,urban public green land area increased from242 hectare to 869 hectare, public Greenland area of per capita increased from 3.2m2 to 5.03 m2. Urban road area increased from 4,940,000 m2 to 16,850,000 m2, road area of per capita expanded from 6.6 m2 to9.8 m2. Urban water supply and drainage situation has been improved. Rebuilding of old town is undertaking along with garden residential area. The utilization of electricity instead of coal, as well as the utilization of liquefied gas and natural gas has provided a convenient life for urban people and brought an atmosphere of modernization.
Medical and Sanitation There are all together 5,692 health organizations with 16,000 patient' s beds, including 130 hospitals with 13,600 patient' s beds, 411 village health centers, 8 urban community public health service centers, 56diseases prevention & control centers, 52sanitation monitor & inspection institutions, and 24 health centers for women and children.
v. Reference Prices of Basic Elements
Power Price in 2005
(1) Power for Residents: 0.394yuan/kwh
(2) Power for Commerce: 0.69yuan/kwh
(3) Power for Industries:
A. Power for Large Industry (10,000 v):0.25 yuan/ kwh
(35,000 -110,000 v): 0.25 yuan / kwh
B. Common Industry: 0.378 yuan/ kwh
(4) Power for Agriculture:
A. Power for Agricultural Production:0.294 yuan/kwh
B. Power for Agricultural Production(Poor Area): 0.218 yuan/kwh
Water Price in 2005
(1) Water for Industrial Use: 1.64 yuan/ m3
(2) Water for Living: 1.42 yuan/ m3
(3) Water for Commercial Use 1.96 yuan/ m3
Related Articles:
Doing Business in Qinghai Province of China: I. Survey
Doing Business in Qinghai Province of China: II. Economy
Doing Business in Qinghai Province of China: IV. Development Zones
Source:
Ministry of Commerce of the People's Republic of China