Chinese Ming furniture is known for its simple and elegant design with fluent lines and appealing proportions. Qing furniture is larger than that of the Ming Dynasty and more imposing, with elaborate carving and inlaid decoration. Both types are prized for their fine materials, special workmanship and high artistic level.
Major types of Chinese Ming and Qing furniture
Type

Name

Characters

Stool
Square stool
A square seat with no back and arms, one of the basic form of' the type.
Folding stool
A cross-legged stool, consisting of eight straight pieces of wood. It is widely used and easy to carry.
Chair
Official' hat armchair
The name comes from its top rail, which looks like a Ming official hat. The one with the ends of its top rail and arms protruding is called "Official hat armchair with four protruding ends"; the one without that called "Southern official's hat armchair"
Armchair with curved rest
The westerns call it horseshoe armchair.
(excluding the folding chair with curved rest)
Folding chair with curved back
A folding stool added with a back. There were two kinds in tile Song dynasty: one with a straight back and the other with a curved back. The latter was popular in the Ming dynasty.
Table
Square table
There are two types of Chinese table. One called "Zhuo" has its four legs supporting at the four corners; the other called "An" has its legs recessed from corners. A large square table is usually sit by eight people called in Chinese "Baxianzhuo", Eight Immortals table.
Narrow rectangular table
It could be used as a lute table, painting table or writing table.
Half table
It could be used as a lute table, painting table or writing table.
Kang table
A short table used on Kangs, it kind of chair-level bed that is usually built-up with bricks and can be heated underneath and also used for daytime sitting in north
Narrow rectangular table with recessed legs
It is narrow and long and of a high level. The one with a flat top called "Pingtiao'an" in Chinese; the one with everted flanges at the two ends of the top called " Qiaotou'an".
Narrow rectangular trestle table
The framed floating panel is supported by two rectangular stands, easy to move.
Bed
Canopy bed
There were four- or six-post canopy beds in ancient China.
Luohan bed
Beds have back and side railings.
Screen
Folding screen
It is made from many panels that can be arranged in different configurations.
Serene set in a stand
It has its central screen panel set in a stand.
Screen set in a stand with a removable panel
It has its central screen penal inserted into the grooves at the inner sides of the frame posts. So the panel is removable.
Ink-stone screen
A kind of small screen placed on the narrow rectangular table for decoration or to protect the candle light from wind
Terms for structure parts of Chinese Ming and Qing furniture
Armchair
1. Top rail
2. Spandrel, at the corner of a joint.
3. Side post.
4. Gooseneck post, the front supporting post of an arm.
5. Arch-shaped apron.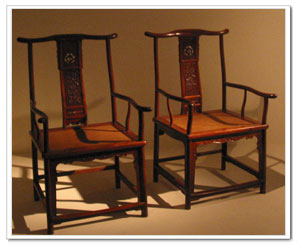 Table
1. Ice-plate edge, a downward-contracting edge of a frame member.
2. Decorative strut.
3. Humpbacked stretcher.
4. One leg with two aprons and one spandrel.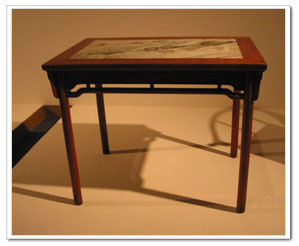 Source:
http://www.china-tour.cn/Chinese-Arts/Chinese-Ming-Qing-Furniture.htm