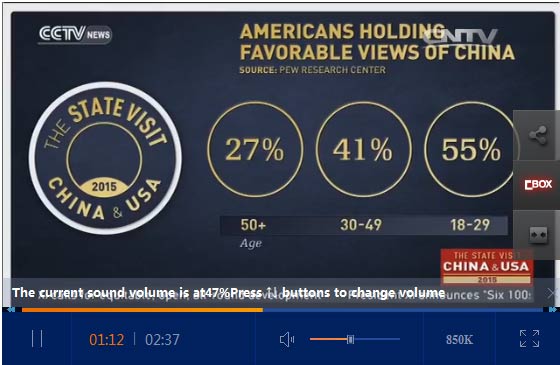 A recent poll shows that a little more than a third of Americans hold increasingly favorable views of China. And among them are young adults who say the rise of China is something not to be taken lightly.
New polling shows that a little more than a third of Americans hold a favorable view of China a figure relatively unchanged in recent years. Republicans - more so than Democrats - remain more suspicious of China. But young adults have increasingly favorable views of China, compared to those of their parents.
"They are thinking about Chinese food, thinking about electronics," said a man.
"My generation still remembers the Cold War and China was part of the Cold War. It was us against them," said Jeff Westlake, graphic artist.
But 28-year-old Stephanie Genuardi says: her generation is more informed than most people give it credit for.
"My friends or people of my age understand how important China is to our global economy, and that they play a big important role so you can't sort of dismiss them," Genuardi said.
"It's changing because younger people are becoming more international, more politically aware, from just having whatever multiples news source they choose," said Goodloe Byron, office manager.
US news sources which often negatively portray China, at times echoing the personalities they cover.
"I don't take it for what it is. I like to do my own research. I think China does play an important role in business, in the stock market, and they do so in their own away," said Stan Parish, scientific researcher.
A trend, he says, as certain as well, good Chinese takeout.
Source:
http://www.chinaculture.org/2015-09/27/content_624347.htm