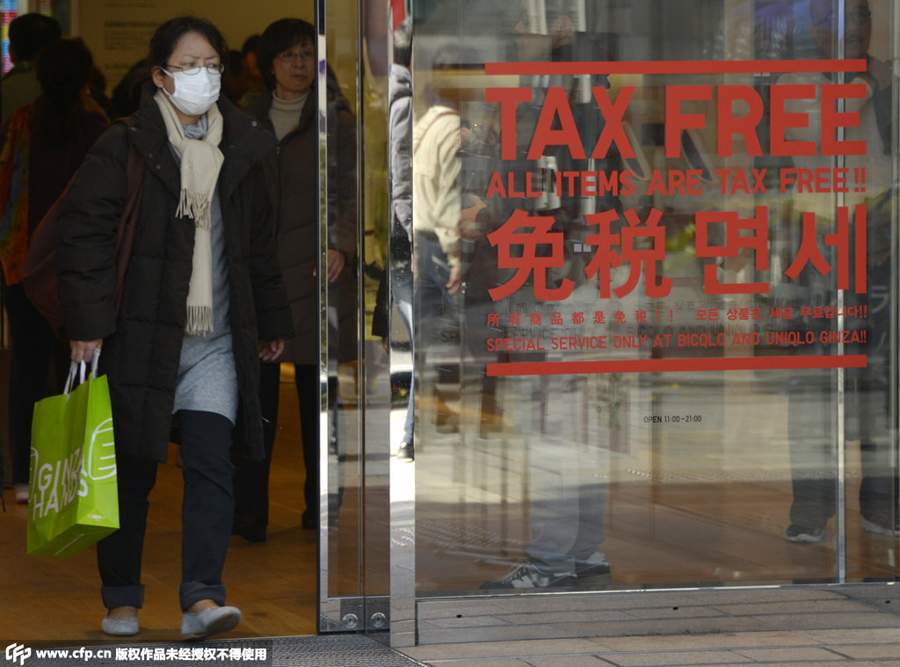 A "tax free" sign written in English, Chinese and Korean is displayed at a shop popular with tourists from Chinese-speaking countries in the upscale Ginza shopping district in Tokyo, February 19, 2015. [Photo: CFP]
Chinese shoppers are coming back from Japan with loads of goods as the Chinese New Year break concludes.
A local television channel in Japan reported that approximately 450,000 Chinese tourists spent nearly 1 billion USD there during the week-long Spring Festival holiday.
The hot items sought after covered a large range; Chinese shoppers bought everything from thermoses to designer brand bags.
Some reportedly bought so many things that regular couriers were no longer able to handle their huge packages.
They had to turn to freight agencies for delivering their shopping back to China.
A resident called Xu Dong in Shanghai shared his shocking experience from when he was trying to fetch some "package" sent from Japan for his friend.
Instead of a package, he saw a small-sized container full of Japan-produced appliances. One container can reportedly weigh up to 1,588 kilograms.
However, Xu said his friend's total expenses on these appliances plus delivery fees are still lower than buying the same products in China.
Why did we see the shopping spree in Japan in this Chinese New Year?
The depreciation of Japanese yen and Japan's expanding tax-free products to overseas buyers have contributed to the spree, according to analysts.
At the same time, last year saw the Japanese government relax visa requirements for Chinese tourists, which also wetted Chinese tourists' appetite for cheaper goods.
Source:
http://english.cri.cn/12394/2015/02/27/3521s867782.htm