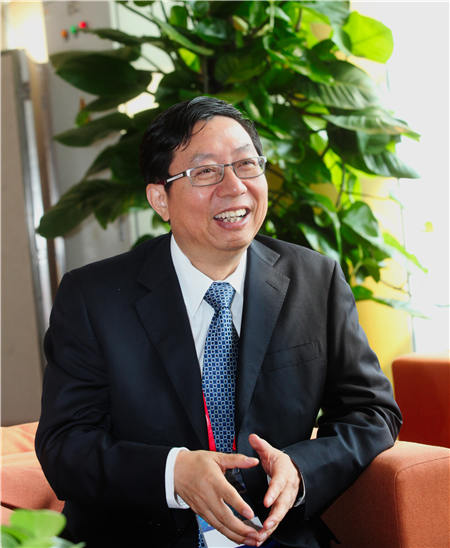 The famous Chinese cardiologist Zhang Shu, 56, was the main official at this year's World Congress of Arrhythmias, which was held in Beijing from Sept 17-19.
As the secretary-general of the World Society of Arrhythmias that is held once every four years in different countries and regions, it was Zhang's responsibility to helm the event's smooth conduct. He is highly likely to become president of the society from 2017 to 2021, according to the rules of the body.
Cardiac arrhythmia, or irregular heartbeat, is also of immense significance to China as an increasing number of heart-related problems are reported from several parts of the country.
As one of the top Chinese experts on cardiac arrhythmia and sudden cardiac deaths, Zhang is among the rare scholars on the mainland to have been recognized by European and US organizations in the field.
That the World Congress of Arrhythmias was held in Beijing is an acknowledgment of China's efforts and progress in providing quality treatment to people suffering from such heart conditions, according to Zhang.
He is president of Chinese Society of Arrhythmias and is also the director of the Arrhythmias Center of Beijing's Fuwai Hospital, among the world's busiest arrhythmia centers, where more than 6,000 patients go yearly for pacemaker implants or catheter-ablation procedures.
The hospital is one of the top specialist hospitals for cardiovascular diseases in China.
Currently, Zhang is also leading global research that aims to improve arrhythmia treatment in underdeveloped countries.
In developed countries, cardiac pacemakers and implanted cardioverter defibrillators (ICD) are widely used to control life-threatening arrhythmias. But such treatments are too expensive to be widely applied in less-developed countries, Zhang says.
In China, for instance, incidences of sudden cardiac death, a condition in which the heart stops beating and causes death if it's not treated within minutes, is 41.84 per 100,000, and every year 54, 4000 people die of the condition, he says.
But due to economic reasons, as well as the lack of skilled physicians and proper surgical facilities, only 38 out of every 1 million people are able to get a pacemaker, let alone an ICD, Zhang says.
The research plans to study more than 4,800 arrhythmia patients across some 100 medical centers in more than 15 countries and regions, including 32 hospitals in China, and through comparative treatment experiments on those patients, the team hopes to identify high risk factors that make it necessary to apply pacemakers or ICDs even among those from poor economic conditions, he adds.
"We hope to obtain a balance between the reduction of patients' economic burden and the increase of patients' survival rate and life quality," Zhang says.
It was his passion to save lives that led him to where he is today, and he is proud to witness China's progress in cardiac healthcare, Zhang says.
He was born in eastern China's Jiangsu province, and since early childhood had watched his grandfather and father working as doctors.
When Zhang was able to take the college entrance exam shortly after the "culture revolution" (1966-1976), he applied to Suzhou Medical College, one of the country's oldest medical schools.
He graduated from college in 1984 and worked at a local hospital as an intern. He slowly began to realize the inadequacies of treating cardiac problems such as arrhythmia at the time in China. That made him want to become a cardiologist, he says.
He enrolled into the capital's Peking Union Medical College, China's top medical school, for his postgraduate education and later worked at the cardiology department of Peking University Third Hospital.
From 1995-99, he went to the US on a training program, where he was exposed to the world's most advanced technologies and practices in treating cardiac problems, and participated for the first time in an international academic conference on arrhythmias.
"Although I've been to many big cities in the world, the only places I've really been to are the airports and the hotels," Zhang says of his busy schedule. "But I don't regret my choice in youth. Good doctors are always needed and respected."
Massimo Santini, a top official of the 15th World Congress of Arrhythmias praised Zhang's contribution in bringing the world's best cardiologists to China for the September summit.
Source:
http://www.chinaculture.org/2015-10/09/content_625480.htm