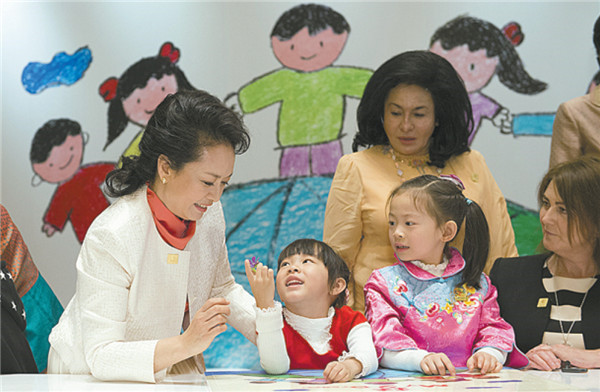 Peng Liyuan is more than simply China's first lady.
She enjoyed a glittering career as a folk singer from the 1980s. Since President Xi Jinping took office in 2013, she has also attracted a lot of attention from home and abroad.
She is also playing a major role in her country's efforts to combat the spread of HIV and AIDS and the stigma that surrounds them.
Just weeks after becoming first lady, Peng made the headlines when she accompanied her husband on a trip to Russia, Xi's first state visit as president.
In a dark-blue trenchcoat and light-blue scarf, she stepped off the plane in Moscow and onto the world stage, drawing comparisons in the international media to US first lady Michelle Obama, former French first lady Carla Bruni-Sarkozy, and Duchess of Cambridge Kate Middleton.
Peng is known for her elegant mixture of Western and classic Chinese styles, while some of the brands she has worn, including little-known Chinese labels, have seen dramatic upticks in business.
In March last year, she wore a classic Chinese robe for a banquet at the Royal Palace in Amsterdam, and in November, she appeared in a traditional blue, floral-patterned qipao to join Xi in welcoming leaders arriving in Beijing for the Asia-Pacific Economic Cooperation (APEC) Leaders Meeting.
Her role in sharing Chinese culture with the world has not stopped with her attire.
She accompanied Michelle Obama, as well as Michelle's mother and her two daughters, on a tour of Beijing's Palace Museum, also known as the Forbidden City, in March last year.
The following summer, Peng invited the wives of leaders attending the Youth Olympic Games in Nanjing, capital of Jiangsu province, to try their hand at Suzhou embroidery, helping to create a piece called "Silk Road."
She also led leaders' wives on a tour of Beijing's Summer Palace, an ancient royal landscape garden, during the APEC meeting, and took another contingent visiting in March for the Boao Economic Forum in south China to drink coffee and watch women making Li brocade, a textile produced by the Li ethnic group that has been listed by the UN as intangible cultural heritage.
Promoting culture is a major task for a first lady, and Peng is the perfect example, according to Ruan Zongze, vice-president of the China Institute of International Studies. "People can discover the beauty of Chinese culture through her dresses and through her ideas," he said, adding that her image is one of "confidence and decency".
Peng, who has been prepared for life under the media spotlight by a decades-long career as a singer, has also taken on the serious task of raising awareness of critical public health issues, including the prevention and treatment of HIV/AIDS.
She has actively taken part in a campaign to tackle the condition since 2006, when she paid a visit to children affected by HIV/AIDS in East China's Anhui province. There, she made three short films with the children, calling for better care and a guaranteed right to education.
"The filming was rather tough," recalled Zhang Ying, chairwoman of the Fuyang AIDS Orphan Salvation Association. "The videos were shot in rural areas, and some scenes took as long as a day to finish."
In another short film released in 2012, Together Forever, Peng called for an end to discrimination against children affected with HIV and AIDS and vowed to carry on her work for as long as it takes, "no matter whether it's 10 years, 20 years, or 30 years from now".
"Peng is very well known to the public and is much respected," Zhang said. "The fact that she has been extending her care to the children will raise more awareness and bring more help to them."
Yang Xiyu, a research fellow at the China Institute of International Studies, added: "Her work presents to the world the efforts that China is making in children's welfare and charity. It delivers a more concrete image than what is shown in government reports or declarations."
So-called first lady diplomacy originated in the West, but China has seen a series of successful diplomatic activities involving its first lady since President Xi took office, he said.
By accompanying her husband on his first state visit to the US as president, Peng would help improve China's image, disperse biased stereotypes that the American people may hold, and increase understanding of the country, he added.
PENG LIYUAN IN PUBLIC LIFE
2006: Accepts an invitation from the Ministry of Health (now part of the National Health and Family Planning Commission) to help promote the prevention of HIV/AIDS
2007: Becomes China's ambassador for the prevention and treatment of tuberculosis
2009: Becomes ambassador for the Chinese Association on Tobacco Control
2011: Becomes a World Health Organization goodwill ambassador to support international work in combating the spread of tuberculosis and HIV
2014: Becomes a UNESCO special envoy for the advancement of female education
Source:
http://www.chinaculture.org/2015-10/06/content_625228.htm