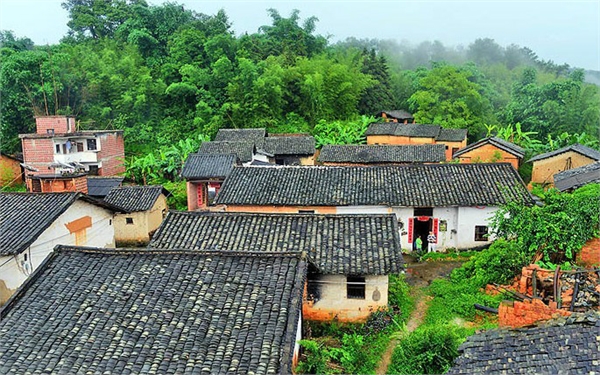 Niubi Village ensconces among mountains in the Mount Danxia hinterland. [File photo]
Scenery along the world's longest high-speed railway from Beijing, on the vast North China Plain, southward to Guangzhou, over the Yellow River and Yangtze River, changes in the space of a few hours, as does the sky from overcast to pure and fresh. Mount Danxia then comes into view through the shifting clouds, among the red sandstone landforms that are named after it.
Dotted with rustic Hakka villages, Mount Danxia, located northeast of Shaoguan in Guangdong Province, is an extraordinary geographical landscape.
Idyllic Niubi Village
In typical southern style, dwellings in Niubi Village, ensconced among mountains in the Mount Danxia hinterland, have tiled roofs and packed earth walls. Until completion of the concrete bridge at the top end of this remote village a few years ago, the rivers and streams bounding Niubi on three sides were its sole means of access.
The long, narrow bridge leads to the village entrance. The village pathway showcases on either side main features of the Lingnan landscape – bamboo groves, ponds, a grapefruit garden, banana trees, and rice paddies. Most prominent is Mount Guanyin, named after the Bodhisattva synonymous with compassion. Niubi Village stands opposite the mountain, whose shape resembles a woman with a baby in her arms. Local residents call the hill the "Child-Sending Bodhisattva".
Most residents have long since moved away to newly built villages, leaving a dozen or so tile-roofed houses among the peaceful bamboo groves. The most enchanting scenery can be seen amid dew at dawn, when the village is wreathed in mist and Mount Guanyin floats in and out of view. It is a sight to treasure. At daybreak, if not for chaffinches swooping and pecking at straw to build their nests, and the ripples in the creek from jumping fish, one might fancy oneself part of an ink and wash painting.
Among the many visitors drawn to this tranquil village are a few whose desire for peace and seclusion moves them to rent small dwellings. Ai Mi is a one such part-time resident who works in the city and comes at weekends to her "Niubi Small Cottage" where she cultivates flowers and vegetables in the yard. She has also set up a library for village children, and lets them to run it.
The friendly, hospitable villagers make Ai Mi feel at home. They often invite her to their homes to sample a glass of rice wine or share a bite to eat. Some among them have given her two fruit trees and a few patches of land. It took Ai Mi less than two weeks to become familiar with every household and feel part of the local community.
When Ai Mi arrives at the cottage, her neighbors gather on the moss-covered flagstone path in front of her abode to pass the time of day. Normally reclusive, Ai Mi relishes her new-found social life. After years of big city toil and struggle, she delights in her simple life in this peaceful haven.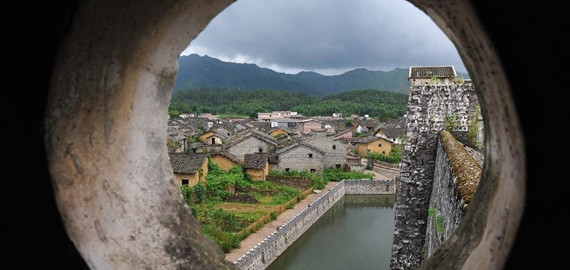 Shitang Village is known as "thousand household village". [File photo]
Antique Ambience of Shitang Village
Shitang Village, 10-plus kilometers from Niubi, is even older and more mysterious. Also known as "thousand household village", it still has vestiges of the mansions and residences which, centuries ago, distinguished it as a large thriving community.
Shitang's most impressive building is the Double Peak Castle at the village entrance. In bygone years villagers were protected by watchtowers on all four corners of the old moat-encircled square castle ramparts.
The last whiffs of gunsmoke having long dissipated, the Double Peak Castle welcomes visitors keen to savor a fragment of China's history. Among the many remaining aspects of rural culture is the "Moon Sister Song", a Han Chinese air that is the reserve of women residents of Shitang Village, Renhua County of Shaoguan. Passed down in the oral tradition for millennia, the song has become well known as an independent and unique school of Hakka performing art, characterized by its distinctive singing dialect, rhythm and Tang Dynasty (618-907) imperial court ambience. The song represents the simple esthetic sensibilities of Han laborers and their hopes for a good life.
The century-old barber's shop, with its old-style clippers, cut-throat razor, steel barber's chair, and large mottled mirrors, is another fascinating feature of Shitang Village. It reminded me of a similar shop in my hometown.
The elderly proprietor chatted with us as we looked around the shop. "I'm 80 years old now and was an apprentice here more than 60 years ago, when I was 17," he said. After rising through the ranks of boiling water, sweeping the floor, and observing and practicing essential techniques, he eventually became owner of his master's barber shop.
"Things haven't changed for decades. Although there's not much trade nowadays, I still come here every day as it gives me something to do," the veteran barber said.
As we talked, a customer came in and the barber immediately got to work, leading him to the chair and helping him on with a white gown.
After cutting the client's hair, as might be expected, the barber trimmed his sideburns and mustache. It, however, took me by surprise when this 80-year-old barber cut the tiny hairs around the corners of the client's eyes.
"Don't worry, for him shaving a month old baby's head is a piece of cake!" the client reassured us. Age had clearly not impaired this master barber's skills.
When the satisfied customer left, the barber took a seat and had a quiet smoke. We enjoyed this peaceful moment with him. I've been to many places and numerous villages, but none has affected me like Mount Danxia. The feeling of its mountains, waters and people will always remain with me.
Encun Village, in Chengkou Town to the north of Mount Danxia, has a thousand-year history. [File photo]
Thousand-Year-old Encun Village
Encun Village, in Chengkou Town to the north of Mount Danxia, has a thousand-year history.
All extant ancient buildings in the village are connected with the Meng clan, whose ancestors originated in Dongmeng Mountain in today's Shandong Province. The well-preserved 10-volume Meng Clan Genealogy is an authentic and complete record of the Meng clan history. In response to our request, the village head carefully fanned through the pages. The genealogy, in addition to being a family tree, also constitutes a fascinating ancient artistic record that includes poems, paintings, calligraphies and seals. The most valuable document must be the preface written during the 10th year of the Xianchun Reign (1274) by Wen Tianxiang, a prestigious Southern Song Dynasty (1127-1279) politician and litterateur.
These 10 volumes record every detail of Encun Village, starting with Meng Niansi, forefather of the Meng clan who moved from Yudu in Jiangxi Province in 1084 to Shaozhou (now Shaoguan) and settled in Encun Village. Meng Tianmin, of the third generation of the Meng clan, was first in the family to pass the imperial examination. Centuries of glory ensued for the clan. Meng Tianmin was honorably appointed by the Song Emperor Zhao Kuo (1168-1224) as county magistrate of Renhua County.
From then on, generations of the talented and able Meng clan had successful official careers. Historical records show that 26 members of the Meng clan were successful candidates in the highest imperial examinations. Also 300-plus family members won awards in both academic circles and officialdom over the past 900 years throughout the Song, Yuan, Ming, and Qing dynasties. The clan became known as "The Most Influential Family in Southern China". Many famous calligraphers, including Zhao Mengfu of the Yuan Dynasty (1268-1370), bestowed priceless scrolls on the clan. But time flies and dynasties change. Members of the Meng clan became local officials around the country and moved away from Encun Village. Its prosperity gradually ebbed. Residents maintain the traditions of their ancestors through the family motto "Prosper the family through tilling land and reading books". A thousand years of living by this traditional ethical code have preserved the relics and glories of Encun Village, where tranquility and a historical ambience permeate local dwellings as well as ancient residences.
Source:
http://www.chinaculture.org/2015-11/17/content_627548.htm