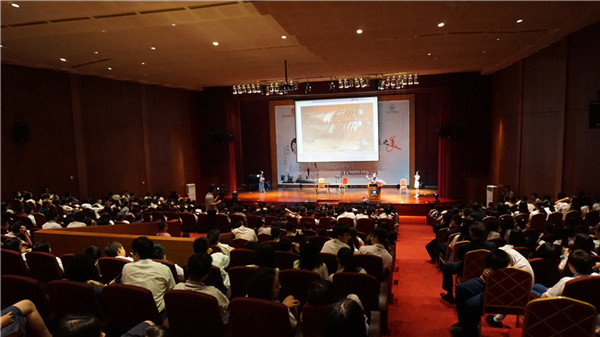 On Dec 10, Chinese musician couple Wang Jianxin and Li Fengyun gave a lecture to 600 students and teachers at Sekolah Harapan Bangsa School in Indonesia. [Photo by Liu Fang / Chinaculture.org]
A series of lectures on Chinese classical instruments were held in Indonesia last week, raising strong interest among local residents and Indonesian Chinese alike.
"I felt a heaving chest while listening toThe Ambush From All Sides, and my heart sunk as if I myself was in the dire situation facing Xiang Yu over 2,000 years ago," said Xue Ni, a journalist fromThe Indian Express.
"I have had great enthusiasm for Chinese culture since I was a child, and I have listened to many classic Chinese melodies, but this is the first time that I felt such strong empathy with the music. I guess it's the lecture that helped me understand the nuances of the melody."
During the lectures, Chinese musician couple Wang Jianxin and Li Fengyun introduced the characteristics of ancient Chinese instruments, including the Chinese zither, xiao (a vertical bamboo flute) and xun (an ancient egg-shaped, holed wind instrument). They also elaborated on the eight categories of musical instruments in the ancient orchestra, the origins of the Chinese zither, which were rather novel to Chinese music fans.
The two played some famous Chinese melodies to give a vivid demonstration of the instruments. Melodies played include a xun soloSong of Chu, Chinese zither soloA Song of Guanglingand Flowing Water, an ensembleSoutherly Wind Songof Chinese zither and Xun, ensemblesSecret FragranceandPlum Blossom Melodyof Chinese zither and Xiao.
Local Indonesian musicians also joined Wang and Li, performing some Indonesian songs with the traditional Indonesian instruments suling (a bamboo ring flute) and kacapi (a zither-like Sundanese musical instrument).
After the performance given at Sekolah Harapan Bangsa School, some of the 600 listeners – students and teachers from the school, said they were inspired by the beautiful music and desired to learn how to play the Chinese instruments.
Xie Feng, Chinese ambassador to Indonesia, said that introducing traditional Chinese culture to the world is a way to develop friendship between cultures. Xie said he hopes that people from China and Indonesia could share with the world the best of the two cultures.
"The Chinese Culture Talks are a culture promotion activity organized by China's Ministry of Culture. The content varies from philosophy, religion, cultural heritage, literature and art, costume, cooking and Chinese medicine. We want to provide a channel for young people from around the world to learn about Chinese culture," Xie said.
Source:
http://www.chinaculture.org/2015-12/17/content_636274.htm