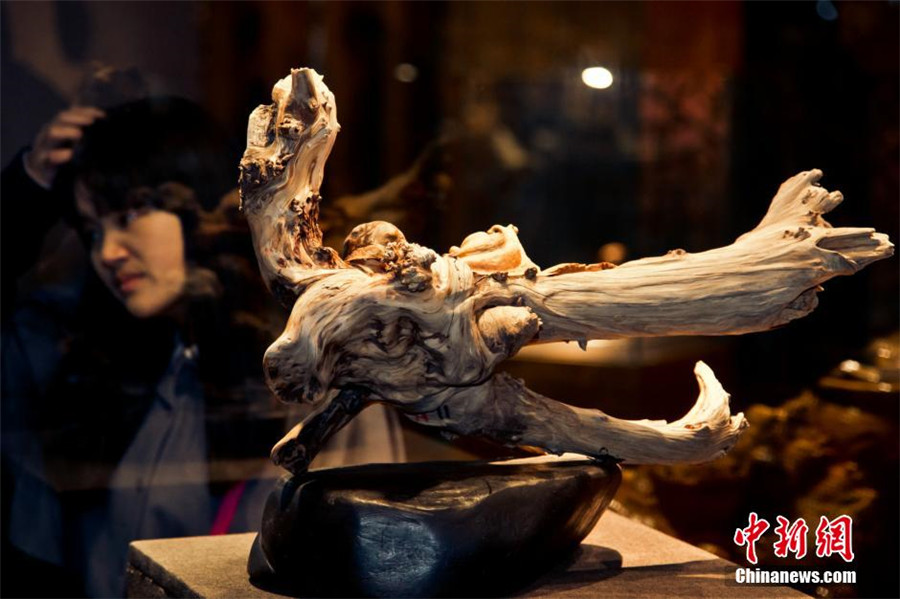 A root carving work that wins an award at the competition is on display at in Fuzhou, East China's Fujian province, Dec 9, 2015. [Photo/Chinanews.com]
Innovative designs of arts and crafts were put to their paces at the 23rd Fuzhou "Wishful Award" competition in Fuzhou, capital of East China's Fujian province, on Wednesday.
More than 100 works from the competition were on display at a sculpture art museum in the traditional districts of "Three Lanes and Seven Alleys" in Fuzhou, where the award ceremony was held.
To encourage innovation in arts and designs, Fuzhou municipal government holds the competition every two years. The contest covers local traditional handicrafts such as cover stone carving, root carving, lacquer art, clay sculpture, and cork patchwork.
This year's competition attracted 132 participants and lasted three months, with 32 artists winning the prize.
Source:
http://www.chinaculture.org/2015-12/10/content_632485.htm