The Longxing Monastery is an ancient Buddhist monastery located near Zhengding County in North China's Hebei Province, about 15 kilometers north of the provincial capital of Shijiazhuang.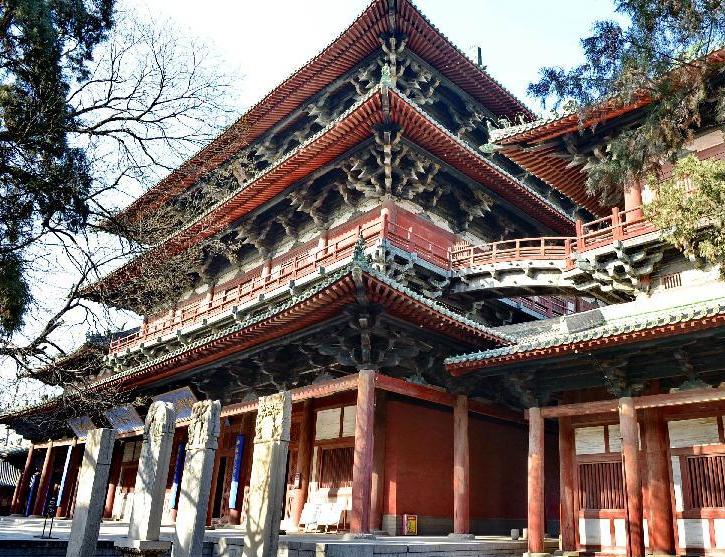 The monastery was first built in 586 AD, during the Sui Dynasty, and its original name was Longcang monastery. One of the oldest stelae on the grounds of the monastery, the "Longcangsi Stele", dates from the year of the monastery's founding. Much of it was reconstructed during the Song Dynasty (960-1279 AD).
Following a common pattern, the monastery complex features a central axis along which a sequence of buildings and focal points is arranged. The first building is the Hall of the Heavenly Kings. At the opposite end of the axis is the Main Hall, a 33-meter-high wooden structure, which houses a bronze statue of Guan Yin. This bronze was built during the early years of the Song Dynasty; its height exceeds 20 meters. Inside the hall, a staircase leads around the statue that allows it to be seen from top to bottom.
Other notable artworks at the monastery are a colorful wooden carving of Guanyin sitting in a grotto and statues of Buddha sitting on a lotus throne.
The Chinese master Liang Sicheng visited Zhengding three times to investigate the ancient architecture and he even described the town as the "art treasure house for ancient architecture".
During his visit, Liang lived in the Buddhist Abbot Court of the Longxing Monastery.
To commemorate the master architect, the Zhengding government began renovation on the Buddhist Abbot Court and turned it into a Liang Shicheng museum.
According to the Zhengding government, the museum's refurbishment was completed in October. The project cost 1.32 million yuan.
Source:
http://www.chinaculture.org/focus/2014-12/22/content_587342.htm