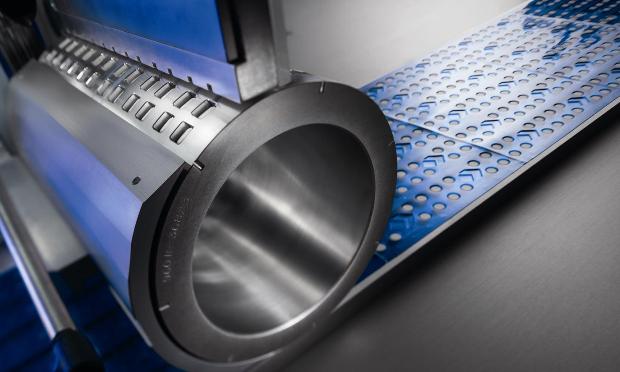 Asked where the focus for developments is on blister packaging lines, Bernd Webel, sales director with? Romaco, is unequivocal in his response: "Romaco Noack focuses on the constant improvement of Overall Equipment Effectiveness (OEE) values. The OEE is defined by performance, quality and availability."
On Romaco's Noack blister lines, and in particular, the company's newest 960 system, he says the realisation of OEE is driven by a range of technical features: QuickClean for fast cleaning, QuickFeed for easy product feeding, QuickChange for quick product changeovers, QuickAdjust for reliable production processes, QuickAdmin for continuous process monitoring and QuickTransfer for efficient line management.
As a demonstration of how these features contribute to OEE, Webel explains that thanks to the QuickTransfer system, which connects the blister machine to the downstream Promatic cartoner, blisters can generally be handled lengthwise. "The lengthwise blister motion reduces the mechanical movements of the coding, perforation and die-cutting stations, which means blister production occurs with minimum strain on the machinery. Only 100 punch cycles are required for the production of 600 blisters per minute."
Most recently, Noack has developed a special feed unit that assures safe handling of products which are otherwise difficult to feed by the use of conventional systems such as dedicated feeding or brush box. The new automatic QuickFeed is suitable for multiple blisters or products that get easily jammed owing to their specifications.
Other blister line manufacturers are also concentrating on feeding problem products. Italian firm Marchesini, for example, has developed and patented high speed loaders that are able to feed complex products safely at the high production speeds that are attainable with its Fast blister line.
The Fast line has also been engineered to allow greater production flexibility, by giving users the option to change between a two- and three-channel configuration and making size changeovers short and straightforward through a reduction in the number of change parts. The system that connects the blister machine to the cartoning machine can be replaced in one single block in less than 30 minutes with the aid of a mere trolley. Once the connection unit has been replaced, production can resume immediately without the need for any other size adjustments. Indeed the drive to manufacture more flexible blister packaging lines is a trend that has been gaining momentum for some years now.
"In the last few years we've seen batch sizes decrease," notes Cristian Sironi, sales director at Monolab, an Italian manufacturer of competitively priced blister packaging and cartoning equipment. "Ten or 15 years ago, 100,000 or even a million was the norm for a production run. Now runs are much shorter, which necessitates more frequent tool changes."
He says Monolab's blister packaging machines were born out of a desire to design 'future-proof' lines that could pack more than just tablets and capsules, because 'you don't know what the market will ask for tomorrow'.
To this end, Monolab's machines have a forming depth of up to 25mm (most rival machines have a maximum forming depth of 12mm), and can fill both liquids and solids into blisters on the same line. This allows users to pack anything from air freshener gels to cosmetics and tablets with very short changeovers. A 'partial' changeover, in other words using the same blister shape but changing the number of cavities per blister, takes eight minutes, while a 'complete' changeover from one forming area size to another takes 12 minutes. Monolab's machines are available in the UK from Springvale Equipment.
Tablet counting equipment is a key component in many pharmaceutical packaging lines, and here, with 100% accuracy a given, machine manufacturers are vying to supply faster machines that occupy a smaller floor area.
Flexibility and high speed
Dutch company Cremer, pioneer of multi-channel electronic counters for the pharmaceutical industry, reports that it has added an extra counting module to its CFS-622 machine to create a high speed, compact counting solution for small and medium sized producers. "The CFS-622×4 is particularly suited to pharmaceutical and vitamin producers who need flexibility and higher speed, and have minimal floor space," explains sales engineer Roger Wayte.
All of Cremer's counting systems are based on the CF-622 module. While Cremer's inline CFI system, which can accommodate up to 10 modules in a row and features a patented container handling system, serves the volume end of the market, the CFS-622 series, with its servo driven scroll for container handling, is designed for smaller operations.
"The CFS series has all the same features as the CFI high speed system," adds Wayte. "The counting modules are totally servo driven for complete control and validation and typically run at 40 to 50 discharges per minute per module. The 'separation flaps' are servo-driven and contact-less so are wear and maintenance free. The product feed hopper system has a special discharge 'slide' which ensures even distribution across the channels and the hoppers can empty completely. To keep the system compact and still with precise container handling and separation, a servo driven scroll is used."
Initially, there was just one system in the CFS-622 series: the CFS-622×3, which could accommodate a maximum of three CF-622 modules. Now, with the introduction of the CFS-622×4 with its larger frame size, manufacturers can have up to four modules on one system, and achieve outputs of up to 180cpm (containers per minute).
Elsewhere, a breakthrough in tablet counting is unfolding as Logic TPS launches a new tablet counting machine that combines bulk counting with imaging technology developed by Data Technologies, an Israeli company that manufactures high accuracy machines for counting seeds and diamonds.
Data Technologies is supplying the counting modules and Logic TPS is providing the automation and bottle handling for the new generation ICU tablet counter, which is billed as 'enabling for the first time bulk tablet and capsule counting with three times the output per footprint'. The counter can be supplied as a single funnel counter capable of up to 40cpm or a twinhead machine capable of 80cpm. For higher speed lines, it is possible to supply two twinhead machines side by side thanks to their small footprint, giving a throughput of 160cpm.
"The ICU 2-80, which can process 80 containers per minute on 100 counts, is equivalent in width to a standard 12-track machine, but the latter would be slower," explains Logic TPS managing director Keith Gooch. "Two or three ICU 2-80 machines could be placed side by side, achieving respective outputs of 160cpm and 240cpm, and the footprint would still be smaller than any rival machines."
He says Logic TPS is in the process of negotiating the first sale in the UK which will be concluded before the end of the year.
New equipment round-up
Following the launch last year of the rotary sealing version of the Noack 960 blister system, this year, Romaco has launched a platen sealing version of the blister packaging line, which can pack up to 700 blisters and 400 cartons per minute. A Noack 930 model is also available, capable of packing 400 blisters and 200 cartons per minute.
This year also saw the introduction of Romaco's Macofar LF 200 range (pictured) of high speed liquid filling systems. There are five models in the range: the LF 200 FC compact module, LF 200 FS single capping module, LF 200 FD double capping module, LF 200 ST sterile module and LF 200 FA stand alone module.
Scanware, represented in the UK by F J Pistol Machine Services, has developed new software that enables its Lynx-Spectra 3D inspection system to scan dry powders, verifying that the correct volume of powder is present in each blister. It launched the software on the back of success with inspecting inserts for inhalers, an application that cannot be carried out by a checkweigher due to the low density of the powder.
Case study
Pharmaceutical manufacturer Hermes Arzneimittel has been packing various tablets at speeds of up to 750 strips a minute with the Siebler Strip Packaging System since September 2012, when a 15-metre line was installed at its facility in Wolfratshausen in Germany. At the core of the line is Romaco's Siebler FlexTrans, a robotic transfer station that deploys FlexPicker robots to handle tablet strips in a variety of sizes and formats.
"We're very pleased with Romaco's robot plant concept," says Helmut Jakolat, production technology manager at Hermes Arzneimittel. "The Siebler Flextrans has allowed us to extend our production capacities significantly."
This Romaco line packs pharmaceutical tablets including some effervescent tablets into four side sealed foil strip packs using a Siebler HM 1E/350 horizontal heat sealing machine and packs the strips into cartons on a Promatic PC 4250 continuous motion cartoner. A Siebler FlexTrans FT 2/900 connects the heat sealing and cartoning operations and makes the system extremely flexible and quick to retool. Different pack sizes and strip layouts are 'child's play', monosize transfer solutions are 'finally a thing of the past', and for the first time, quick format changeovers are possible on a strip packaging line, says Romaco.
The sealed strips are fed to the robotic transfer station on a spreading belt. A camera checks their position and assigns the cut strips to robot grippers. Six FlexPicker robots then transfer the strips directly to the cartoner's bucket chain at speeds of up to 150 picks per gripper per minute.
If necessary, the strips can be temporarily stored in buffers parallel to the belt to enable the transfer station to synchronise the processes of the upstream and downstream machines.
Star Product
Belfast-based pharmaceutical packaging integrity specialist Sepha used Pack Expo in September as the launchpad for Bottlescan, the world's first non-destructive, multi-bottle integrity test device for induction sealed pharmaceutical bottles.
Designed and manufactured at Sepha's UK headquarters, BottleScan uses force decay technology to detect weak seals and defects down to 15 microns.? It has a tool-less design and can test up to four bottles simultaneously in a quick test cycle of approximately 60 seconds. The system produces objective pass-fail results, enabling good bottles to be returned to the production line.? BottleScan has the ability to run in compliance with 21CFR Part 11, offering pharmaceutical manufacturers and packagers a more technologically advanced, accurate and efficient solution for testing the integrity of induction-sealed bottles.
Paul Kelly, Sepha's head of sales and marketing says: "BottleScan is the latest addition to Sepha's integrity testing product range and has been developed in response to increasing market demand for a more advanced, technology-based integrity test for induction-sealed bottles.? Its tool-less design and configurable methods make it ideal for pharmaceutical lines running multiple products. Operator error is also eliminated as the quick, repeatable test provides objective data which is securely stored and can be built in to current Good Manufacturing Practice (cGMP) and used as part of robust QA testing."
Since debuting Bottlescan at Pack Expo, Sepha has already taken orders for the test device from companies in the USA and India.
Source:
http://www.packagingnews.co.uk/equipment/a-healthy-dose-of-innovation-buyers-guide-blister-packaging/