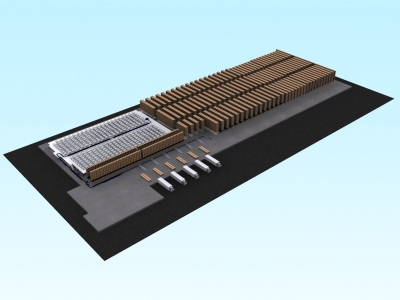 ITW Retail Group, Australia's leading supplier of hardware and fasteners to the retail trade, is building a new high-tech 21,500 sqm national distribution centre (DC) at South Dandenong in Melbourne.
With around 7,000 stock keeping units (SKU), including brands such as Zenith, Ramset, Buildex and Pryda, ITW Retail Group products are a popular choice for builders and the DIY market in Australia and New Zealand.
The new DC is scheduled to commence operations in the latter half of the year. It is being fitted out with integrated logistics and paperless picking technologies from Dematic.
ITW Retail Group's national operations manager Brian Angwin said systems integration was the most important feature of the new DC.
"While all of the individual product, technology and software systems that go together to make a modern DC are important, it is how efficiently those systems are integrated that creates a logistics solution which is greater than the sum of its parts.
"From where and how our products should be stored, through to the most-efficient and accurate way to pick, assemble and despatch orders, Dematic's advice has been invaluable," Mr Angwin said.
"The new DC will not only enable us to pick and pack orders faster, more accurately and cost-efficiently than before, it will enable us to increase throughput volumes and provide us with the organisational agility to respond to changing customer demands over time."
A key feature design is a smart zone-skipping conveyor system, which will transport orders only to those areas of the DC where items are required, reducing order processing time and increasing overall system throughput capacity.
Dematic's industry manager Darren Rawlinson said: "A significant distribution challenge for ITW Retail Group is the fact that a large part of its SKU range can look very similar in appearance. For example, one pack of screws can look virtually identical to another, so accurate product ID was a key driver for our integrated logistics solution.
"In recent years we have assisted ITW Retail Group to make the switch from paper-based to paperless picking, through the use of RF scanning. A key feature of our solution for its new DC will be the introduction of voice-directed picking, which will further enhance accuracy and deliver increased productivity, throughput and OH&S benefits," said Mr Rawlinson.
Voice-directed trolleys will also be used for cluster picking of small or single line item orders in a multiple orders per tote (MOPT) configuration. RF will continue to be used for replenishment, put-away and inventory management requirements.
ITW Retail Group opted to locate its new national DC at South Dandenong due to the location's close proximity to its national freight partner Toll Logistics.
"Being just a few minutes away from Toll will enable us to pick and despatch orders until later in the day, further improving order turnaround and service delivery to our extensive customer base in Australia," said Mr Angwin.
Source:
http://www.tandlnews.com.au/2013/03/14/article/new-national-dc-for-hardware-and-fasteners-specialist-itw-retail-group/