No matter how comfortable a dining or living room may be, nothing can match the pure natural joy of relaxing and eating outside. For families and friends to enjoy the best of nature, it is important to have the right types of outdoor furniture.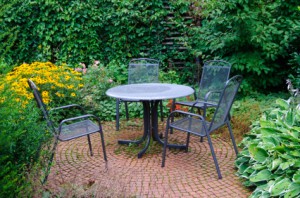 Patio, Garden, and Backyard Use
First and foremost, outdoor furniture must be selected based on specific use. For example, lightweight folding furniture pieces are ideal for backyard picnics and large gatherings. Plastic such as polyurethane is a common material of folding outdoor furniture. By contrast, patio furniture is more elaborate, heavy, and is designed for extended seasonal use. Wicker and natural woods are often used for patio furniture ranging from tables and chairs to ottomans and benches.
Withstanding Outdoor Conditions
When considering different types of outdoor furniture, it is important to think about resistance to weather elements such as UV radiation, rain, wind, and humidity. Some materials such as wicker are resistant to most of these weather conditions but other materials such as natural woods and metals are susceptible to damage and must be regularly covered with coatings and applications.
Whether it is for the backyard, front porch, or patio, you should select the right type of furniture to blend in different areas of a home's outdoor space.
Source:
http://www.directoutdoorliving.com/blog/2012/01/30/types-of-outdoor-furniture-for-the-backyard-and-patio/