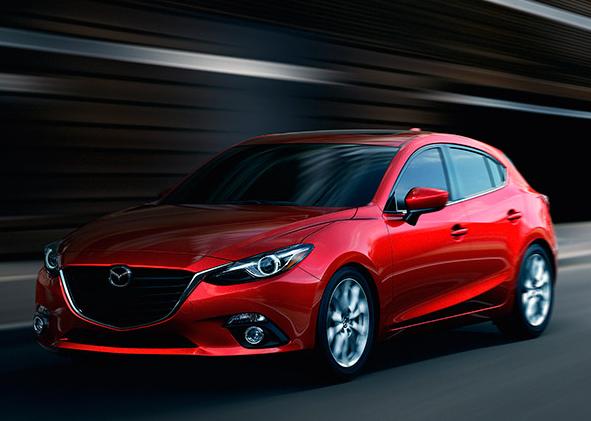 The all-new Mazda3 sticks close to its established formula,with slight dimensional changes that promise more interior space,upgraded infotainment,efficient four-cylinder engines,and a weight reduction.
As before,available as a hatchback or sedan,the new 3 rides on a 2.4-inch longer wheelbase,and it is both lower and wider.The result is a claimed improvement in passenger space,especially in the back seat.Part of the gain in rear legroom is from a revamped seat design that carves mass from the front seats.Improvement there is welcome,given that the current 3's rear seat is pretty snug.
Visit our small car buying guide for quick access to the latest advice,Ratings,road tests,and videos.
Mazda is focused on a"heads-up"approach to displaying driver information,with a clear panel above the instrument cluster to show vehicle speed,navigation directions,and other information.There is also a pop-up screen in the dash center for the infotainment system.That system connects to a smart phone via Bluetooth,enabling Internet-based functionality,such as Aha,Facebook and Twitter feeds(read aloud),and text messaging.The stereo provides the typical combination of AM/FM radio,Sirius satellite radio,and CD player,along with USB and auxiliary inputs.Hopefully this new system improves on some of Mazda's recent mediocre electronic systems.
The engine lineup includes Mazda's corporate 155-hp,2.0-liter or the 184-hp,2.5-liter four-cylinder engine,both paired with either a six-speed manual or automatic transmission and equipped with Mazda's Skyactiv suite of technologies aimed at increased fuel economy.
These engines have provided decent power and miserly fuel consumption in our previous tests of the Mazda6 and CX-5.The redesigned Mazda 3 builds on this with regenerative brakes that can capture kinetic energy,store it in a capacitor,and improve gasoline consumption by supplementing the alternator to power accessories,thereby reducing parasitic drag.
Mazda's Skyactiv philosophy also involves reducing vehicle weight to improve efficiency.That's impressive,given that the Mazda3 was already a fairly light car.We just hope that despite the weight reduction,Mazda wasn't stingy on noise isolation;recently tested Mazdas have all had high levels of road noise.
Unusual for the class,the Mazda3 will offer automatic high-beam control,blind-spot monitoring,lane departure warning,forward collision warning,city brake support,and active cruise control.
At a glance,the 2014 Mazda3 looks both familiar and fresh.The outgoing model performed well in our testing,and it impressed our team with its balance of fun and efficiency.The new 3 builds on that,boasting increased interior space,intriguing display concepts,and better performance.Sounds good.We look forward to buying one,or two,to test at the Consumer Reports test track.
Source:
http://news.consumerreports.org/cars/2013/06/redesigned-2014-mazda-3-promises-more-of-a-good-thing.html#comments