U.S. jewelry and watch sales across all channels rose a preliminary 1.4 percent year on year in November, the month that marks the beginning of the Christmas-shopping season. While the increase was disappointing, compared with the previous two years, November's data is still subject to government revisions. Jewelry and watch sales rose 4.9 percent in November 2012 and 6.5 percent in 2013.
Slight changes were made to the sales estimates for August through October; however, the updates were marginal and failed to curb an overall trend of slower sales growth across the sector that began in September.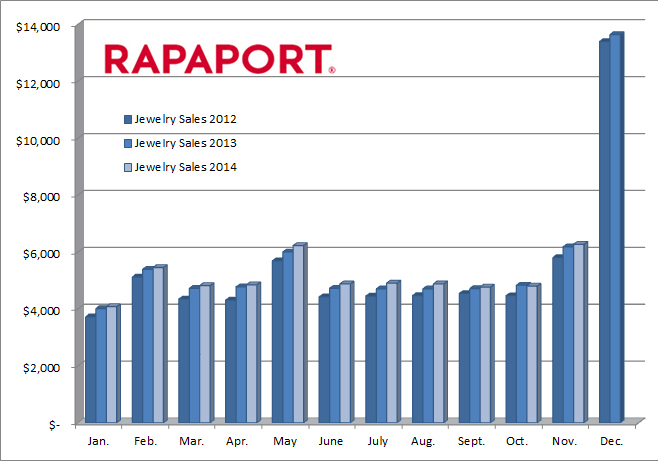 Jewelry and watch sales totaled $7.128 billion in November, according to preliminary Rapaport News estimates. The sector's total has risen 2.1 percent to an estimated $63.58 billion for the first 11 months of the year.
Specifically, jewelry sales rose 1.5 percent year on year to $6.272 billion in November, following a 0.5 percent contraction in October, according to Rapaport News. Jewelry sales have risen about 2 percent to $55.95 billion during the first 11 months of the year.
Watch sales improved 0.9 percent year on year to $855 million in November, following a 1.6 percent decline in October. Watch sales have risen almost 2.5 percent to $7.63 billion in the first 11 months of the year, as calculated by Rapaport News.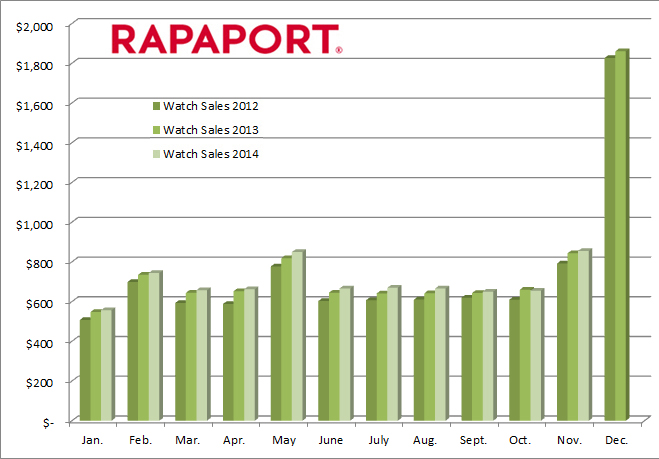 Bill Martin, the president of ShopperTrak Inc., stated that retailers "came out of the gate" with early promotions in November, enticing shoppers to buy with "Black Friday Deals Now."
Ultimately, the early teasers helped to boost retail sales by 5.2 percent in November. The group projected that retail sales for the whole Christmas season would increase 3.8 percent.
ShopperTrak predicted that nearly all of the busiest shopping days for Christmas would land in December, including the sixth busiest day -- yet to come -- December 26. Martin also explained that the number of gift shopping days never change, contrary to popular myth that the season only runs from Thanksgiving Day through to Christmas.
"The season is 61 days long every year. While there are many calendar nuances from year to year, and some shifts can be favorable to certain days, the season remains the same in the long run," he wrote. The notion should help retailers understand that, while certain days may give a boost to sales, "winning retailers" diligently work on returning customer value all year long.
Source:
http://www.diamonds.net/News/NewsItem.aspx?ArticleID=49925