Strategies Unlimited is forecasting a flat LED lighting market for 2012 relative to 2011, with growth in retail and industrial/commercial lighting offset by contraction in retrofit lamps, as reported by VRINDA BHANDARKAR, ELLA SHUM and LAURA PETERS.
The year 2011 saw excellent revenue growth of LEDs used in lighting at 46%, fueled by increased sales in retrofit lamps, retail display lighting, commercial and industrial lighting, and outdoor lighting applications. However, 2012 will unfortunately not enjoy such growth due to persistent pricing pressure. Strategies Unlimited expects the overall LEDs in lighting market to remain essentially flat at $2 billion in 2012, with growth in retail display and outdoor area lighting offset by contraction in the retrofit lamp market (Fig. 1). The forecast also calls for only 1.5% growth in LED revenues in 2012 over 2011.
These results are contained in Strategies Unlimited's most recent reports entitled "The Market for High-Brightness LEDs in Lighting Applications: Market Review and Forecast, 2012" and "The Worldwide Market for LEDs: Market Review and Forecast, 2012". These are updates to the data that was presented at Strategies in Light in February.
Several critical trends are influencing the technologies and market size of LEDs and LEDs used in lighting. These include dropping average selling prices (ASPs) of LED components, a broadening of LED package types, and increasing adoption of standards on a worldwide basis.
Significant trends in lighting
The ASPs of packaged LEDs, which fell on average by 25% in 2011 (Table 1), have continued to drop, perhaps by another 20% already in the first half of 2012. While continued drops in price are fueling market adoption of LEDs in various applications, there are still markets for which cost is considered too high for mainstream adoption, such as replacement lamps. The exception has been in Japan, where a rapid increase in LED replacement lamp sales occurred following the Fukushima nuclear power-plant accident.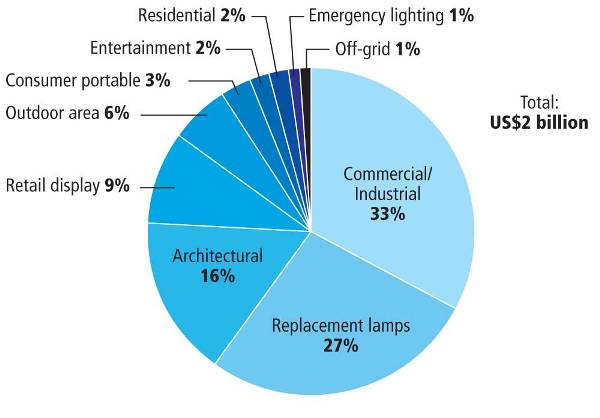 FIG. 1. Revenues for LED lighting markets by application in 2011.
However, we expect the LED components used in the replacement lamps market, which grew to $555 million in 2011, to contract somewhat to $484 million in 2012 due to unsustainable market growth in Japan. The revenue for lamps however is expected to grow from $2.1 billion in 2011 to $2.6 in 2012. For specific details and a breakdown of trends by replacement lamp type, see the Strategies Unlimited report entitled "LED Replacement Lamp Market Analysis and Forecast, 2012".
FIG. 2. LED lighting market by package type in 2011.
Secondly, LED component makers are broadening their product lines to include, in particular, multichip packages that include small arrays in chip-sized packages as well as larger chip-on-board (COB) arrays. The chip-sized arrays reduce the demand for thermal management while simplifying the design of directional luminaires such as downlights. Companies making such multichip packages include Bridgelux, Citizen, Cree, Nichia, Osram, Philips Lumileds, Samsung and Seoul Semiconductor.
Thirdly, LED light engines are also simplifying the design of LED luminaires. We recognize that LED modules with and without an integrated driver (definition of LED light engine by Zhaga) have been introduced by established suppliers such as Philips, GE, Cree and Bridgelux as well as start-up companies.
For applications that require diffused light, the industry is now often replacing high-power LEDs with medium-power LEDs. We expect InGaN medium-power LEDs to be the fastest growing market segment by package type in 2012, though high-power LEDs will make up the largest percentage of revenues sold (Fig. 2). High-power LEDs will continue to be used in applications including street lights, flashlights, recessed lights and PAR replacement lamps.
For omnidirectional applications, remote-phosphor technologies from Philips and Intematix are being used to improve the efficacy of converting blue LEDs to white light.
Standards continue to accelerate the market transformation to solid-state lighting, which is occurring more rapidly than previous transitions such as the change to fluorescent and compact fluorescent lighting technologies. This is partly due to the efforts of organizations such as the US Department of Energy (DOE) and organizations in Europe that have encouraged standardization. The LEDs in Lighting report covers critical developments by Zhaga in light engines, IES TM-21 and LM-82, as well as the harmonization of global standards through the IEA 4E SSL Annex.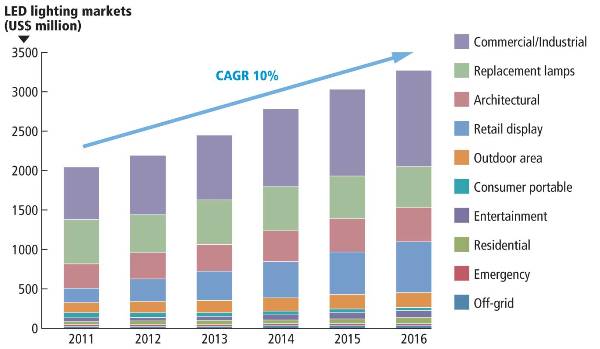 FIG. 3. LED lighting markets are forecast to grow by 10% CAGR over the next five years.
Initial system cost has long been a barrier to LED lighting adoption, but this has been offset in many cases by utility or energy-efficiency rebates. Specific lighting applications have reached acceptable return-on-investment levels based on utility rebates in the case of outdoor area lighting and energy efficiency rebates in the case of retail display lighting. Energy efficiency rebates, combined with the benefits of controls, are making industrial applications affordable.
Retail displays, commercial, outdoor
The bright spots in 2012 will be in retail display lighting, outdoor area lighting and commercial and industrial lighting, which we expect to grow by 62%, 13% and 12% respectively.
The fastest growing market in 2011 was retail display lighting and indeed we expect this market to grow by 62% in 2012. This growth will be due in part by increased sales in retail displays in China and other developing economies. Over the forecast period of 2011-2016, we expect retail displays to be the fastest growing LED lighting market. LEDs are attractive in this application because color makes the merchandise more appealing, the form factor is compatible with the display cases and energy-efficiency rebates have made the cost of implementation affordable.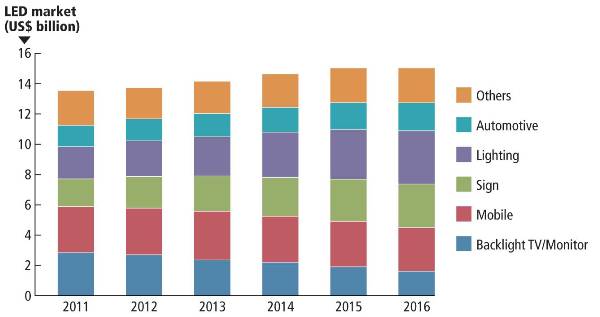 FIG. 4. The 2011 LED market by application.
A very large portion of the retail display lighting market is for refrigerated case lighting, which will increasingly be adopted especially in emerging markets worldwide where a rising middle class and urbanization will drive demand for refrigerated cases in grocery stores.
The LED commercial and industrial lighting segment was the largest LED in lighting segment in 2011 and the revenues are forecast to grow to $1.2 billion in 2016, following a CAGR of 13%.
Outdoor area lighting includes all street and area lighting as well as parking lot lights. While this sector is growing quickly, manufacturers are able to reduce the total LED count required per street lamp with each new generation, which dampens overall growth of revenues for LED components.
While outdoor area, retail display and commercial/industrial LED lighting will experience good growth, segments such as consumer portable and emergency lighting have reached market saturation (Fig. 3). Continued moderate growth is anticipated in the residential, architectural lighting and entertainment lighting segments. Replacement lamps will need to reach acceptable price points for the consumer and dimming compatibility issues must be resolved.
LED markets
Not surprisingly, the LEDs market overall experienced better growth in 2011 than it is expected to enjoy in 2012. Strategies Unlimited forecasts a 1.5% growth in LED revenues in 2012 over 2011 and a CAGR of 2% over the forecast period of 2012-2016. The strongest segments of the market will be LEDs in lighting, followed by LEDs used to make signs and LEDs used in automotive applications. The respective sizes of these markets in 2011 and forecast growth rates are shown in Figs. 4 and 5.
The LED-based sign industry is fueled by the Chinese domestic sign market, which was US$2.5 billion in size in 2011. Strategies Unlimited expects this market to grow by a CAGR of 9.4% over 2012-2016.
The strongest segment for growth in automotive is for headlamps, which are expected to make up 38% of the automotive revenues by 2016, up from 10% in 2011. Daytime running lights made up the largest portion of the automotive market in 2011, at 26%. Automotive LEDs are expected to grow by 6.6% CAGR over 2012-2016.
The backlight TV/monitor segment has suffered from overcapacity issues. In addition, lower-cost direct-lit TVs in the 32-35-inch size range, which require fewer LEDs than edge-lit flat-panel TVs, are driving down demand in this sector.
The mobile segment of the LED market is driven by demand for camera flashes and backlights for mobile tablets. Flash made up 44% of the mobile LED market in 2011. Tablet revenues were driven by sales of iPads, with the latest models requiring 84 LEDs.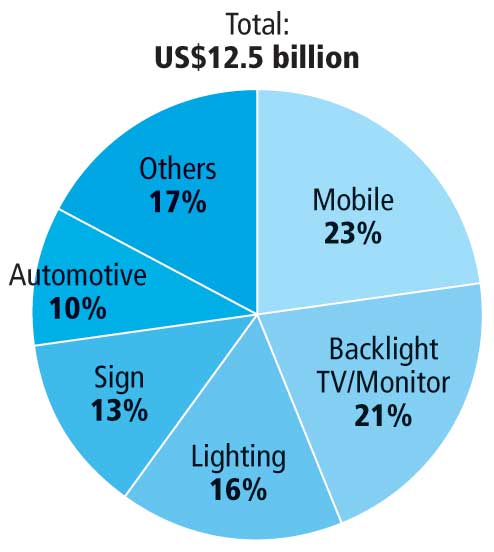 FIG. 5. Growth will be strongest in lighting, followed by signs and automotive applications.
Top LED component suppliers
Nichia of Japan led the industry in 2011 with $2 billion in LED revenues. Nichia grew its LEDs for lighting sales from 35% to 50% in 2011. Samsung LED, LG Innotek and Seoul Semiconductor of Korea were the number two, number four and number five suppliers, demonstrating strength in TV and monitor backlights, LEDs that were also used in lighting. The number three supplier, Osram Opto Semiconductors notably postponed its initial public offering last year.
The number six spot is shared by Philips Lumileds and Cree since the companies' revenues are close enough to be within the margin of error, while Sharp of Japan comes in at number seven, followed by Toyoda Gosei (TG) and Everlight of Taiwan. In 2011, Nichia and TG were the major beneficiaries of the boom in the tablet market.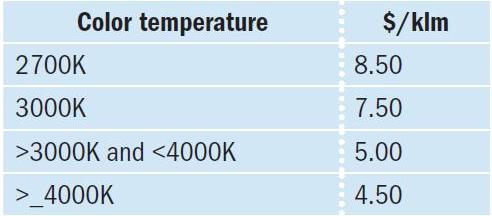 Table 1. Price per kilolumen of 1W high-power LED, 4Q'11
Conclusions
Strategies Unlimited projects moderate growth rates for the LED and LED in lighting markets going forward, at 2% and 10% CAGR, respectively. For LEDs in lighting, revenue growth will be strongest in the retail display applications, followed by commercial/industrial lighting and outdoor area lighting. The strongest segments of the LED market will be in lighting, followed by signs and then automotive lamps.
Source:
http://ledsmagazine.com/features/9/9/8