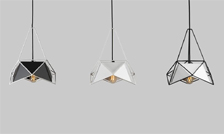 Mexico based studio Shift has created a pendant lamp with a tubular metal superstructure.
Say the designers, "Constructed entirely from metal, U32-1 explores the concept of modern lighting, taking heavily from contemporary urban trends; particularly the tension and structure of the modern city landscape."
This unique product is composed from two icosahedric geometries, beside that the lamp presentsa distinct angular dialogue, between surface and frame.
The designers of shift made the product innovative deeply conceptualize.
Source:
http://www.furniture-magazine.com/news/article/pendant-light-mexico-based-studio-shift/