Pot plants can clutter up a workspace, providing little benefit other than looking pretty.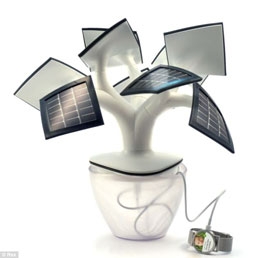 But now there's a mini tree that promises to charge your smartphone and can even be used as a light.
The Electree Mini has solar panel 'leaves' to transform the light it absorbs into energy that can be used to charge a range of USB-connected devices as well as batteries.
The device has nine solar cells which can be swivelled on the potplant's plastic branches to get maximum exposure in the sunlight.
Vivien Muller, the French designer behind the concept was inspired by bonsai trees and patterns found in nature when designing the device, which is now at crowd-funding stage.
He intended it to provide solar-derived power to environments without electricity and after several prototypes over two years is close to bringing his idea to the public.
The device comes in different versions: the basic Electree Mini, which recharges three AA or AAA batteries that people can use to power appliances; Electree LED, which turns the solar tree into a colour changing lantern and Electree USB, which will allow people in sunny countries to recharge their smartphones and smart watches every day
Owners of the 'potplant; will be able to recharge a smart watch even on cloudy days. The Electree takes approximately four hours to charge AA (LR6) batteries on a sunny day and around 48 hours in less favourable lighting conditions.
One version will allow people to make use of all the different functions, which come in the form of modules that can be clipped into the Electree's 'pot'.
Made from recyclable materials, the Electree comes in kit form, allowing people to disassemble it when they are not using it.
Mr Muller needs to raise €190,000 (£156,164) to reach his goal on crowd funding website Indiegogo to put his prototype into production.
'Reserve an Electree mini for your home, office, or store, to ensure continuous aesthetic rapture coupled with a greener carbon footprint for yourself and all your visitors, colleagues, and customers,' he said.
The basic Electree Mini costs €199 (£164), with the USB and LED versions available to pre-order for €229 (£188). A version allowing people to use the 'plant' as a light, battery and smartphone charger is priced at €249 (£205) and delivery is estimated to be just in time for Christmas.
Source:
http://www.led-search.com/news-view-2998.html