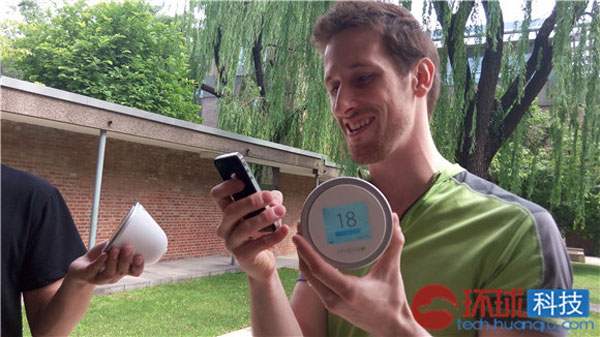 n years past, a smog-shrouded Beijing was accepted as a fact of life in the big city. But increasingly, people are taking notice.
Companies now are focusing on using the internet, smart devices and big data to help the Chinese make informed decisions about how they go about their daily life.
Origins, a Beijing-based start up, created a Laser Egg, which is a portable device that measures air pollution on a real-time basis.
A built-in laser beam picks up particles in the air, presenting a calculation of the fine particulate matter per cubic metre.
Liam Bates of Origins explained they wanted to create a device which is easy to use, affordable, and can tell whether you are breathing healthy air.
"Air pollution is completely invisible. In your house, you have no idea if it's very healthy or hazardous."
Selling for 379 Yuan, or around 60 US dollars, the Laser Egg aims to highlight the sometimes forgotten issue of indoor air pollution.
A customer, Chen Yan, came to buy two air purifiers and a few Laser Eggs.
"In the past, Chinese people were not very much aware of environmental protection. Even though the government appealed to the people to care about this issue, they felt it did not really affect them. But now everyone is experiencing it themselves. The awareness of this issue will increase in the future and it is a good thing."
Air Visual is another company born out of the air quality crisis.
It has a smart phone application that uses air quality data from monitoring stations across Beijing. When that information is combined with the weather forecast, a prediction is made on how the quality of the air will evolve over the next few days.
Yann Boquiod, co-founder of Air Visual, said they are aiming to turn data into information that will help citizens, business owners and schools take charge of their immediate environment.
"Our artificial intelligence has learned already about six to seven years of previous data. So it knows that tomorrow, under the current weather conditions and the current pollution emissions, there is a big chance, so like we talked about - a probability of above 80 percent chance to actually have this air being cleaned out"
Air Visual is also developing a portable indoor air quality monitoring device that is scheduled to be released in January.
Beijing's city government is starting to use more sophisticated technology for its forecasts.
The system takes into account not only weather patterns that suspend pollutants in the air, but also industry emissions, and flows of vehicles and their emissions.
It also incorporates real-time data from air monitoring systems, satellite images, and even information that is passed around on social media.
China plans to upgrade coal power plants over the next five years to tackle the problem, and says its emissions will peak by around 2030 before starting to decline.
Source:
http://english.cri.cn/12394/2015/12/12/4202s908055.htm