IMS Research unveils its global lighting report "The World Market for Lamps & Luminaires in General Lighting" offering an in-depth analysis of the whole lamp market by region, application, technology, shape and wattage, all forecast through 2020.
In lighting, LEDs are continually improving in efficiency and quality of light they emit, all while decreasing in cost. It is predicted that by 2016, it will be much more common for LEDs to produce greater than 200 lumens per watt. Additionally, the development of several new methods of building replacement LED lamps (light guides, remote phosphors, liquid cooling) is creating new lighting products that can better mimic current lighting technologies at lower prices. The greatest impact from these improvements is that LED lighting will not be boxed into niche lighting markets, but in the long run should be able to penetrate all viable lighting markets that currently use an array of different technologies.
The quick adoption rate of LEDs in certain applications, in conjunction with their long life, will have a profound effect on the global lamp market in the medium term. As more and more sockets are filled with LEDs the market for replacement lamps will decrease. This, in conjunction with the year-on-year decrease in prices for LED lamps, will lead to market growth slowing in 2015 and decreasing in 2016. By 2020, it is forecasted that LED lamps will make up 66 per cent of the market, and the market will be shrinking.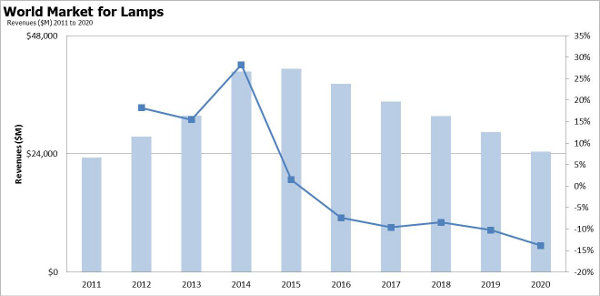 The forecasting of different lamp shapes by technology and wattage is extremely important in the lighting sector, as different light sources are needed for different applications. For example, the penetration of LEDs into office settings where fluorescent technologies are used will be much different than the penetration of LEDs into retail applications where directional reflector lamps are installed on a large scale.