Growth in worldwide demand for packaging machinery is expected to climb at a 4.6% annual pace through 2017 to $41.8 billion, according to a new study by The Freedonia Group. The study analyzes the currently $33.4 billion world packaging machinery industry. It presents historical demand data for 2002, 2007 and 2012, and forecasts for 2017 and 2022 by machinery type (e.g., filling and form/fill/seal; labeling and coding; wrapping, bundling and palletizing; case forming, packing and sealing), market (e.g., food, beverages, pharmaceuticals and personal care products, chemicals products), world region, and for 31 countries.
The study suggests an improved business climate—which will be reflected in expanding fixed investment spending, manufacturing output, and packaging demand—will drive increases in equipment sales through 2017.
Machines used in the packaging of chemicals, pharmaceuticals, and personal care products will post the fastest sales gains in percentage terms. Purchases of packaged pharmaceuticals and consumer goods—and associated equipment demand—will be boosted by rising living standards in developing nations.
Food manufacturing is the largest market for packaging equipment, accounting for about 40% of total sales. The increasing need for pharmaceutical, food, and beverage manufacturers to ensure the safety of their products throughout the supply chain will result in labeling and coding equipment being the fastest growing of any major product type in value terms. However, filling and form/fill/seal machines will remain the most widely used type of packaging equipment through 2017, with demand bolstered by their extensive use in the large food processing market.
Global demand for labeling and coding equipment is forecast to increase at a 5.5% annual rate through 2017 to $6.3 billion, an improvement over the 2007-2012 performance and the fastest pace of advance of any major product type. Sales growth will be driven by expanding consumption of label-intensive nondurable goods, including convenience and single-serving food items; and by a rising need for shippers to accurately track items for safety and security reasons—especially in the food, beverage, and pharmaceutical industries.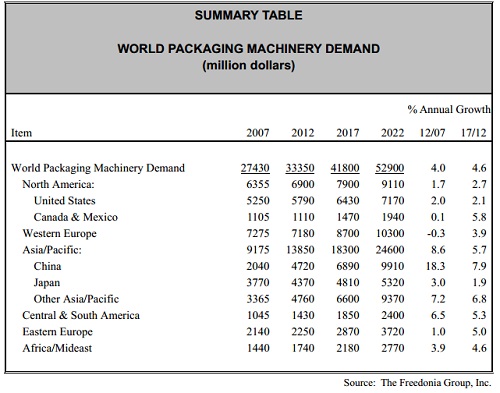 The U.S. is currently the largest national market for packaging equipment globally. Although it will be surpassed in size by the much more rapidly expanding Chinese market by 2017, the U.S. will continue to account for about one-sixth of the world demand total. Demand for packaging machinery in the U.S. is forecast to climb 2.1% per annum to $6.4 billion in 2017, the slowest pace in the North American region.
In addition, though some manufacturers are returning their production facilities to the U.S., many locally based producers will continue to seek cost reduction through offshoring, lowering domestic packaging equipment requirements. However, the U.S. will record much larger sales gains in dollar terms than Canada and Mexico because of the huge size of the country's packaging machinery market. Advances in domestic manufacturing activity and a strong rebound in fixed investment expenditures following a period of decline will help packaging machinery suppliers to the U.S. post sales gains, especially as packagers seek to cut costs by reducing both energy and packaging use through 2017.
The strongest sales increases in percentage terms will be registered in the chemical products segment, bolstered by an acceleration in chemical manufacturing activity. The weakest demand gains will be posted in the much larger beverage market because of subpar production growth. Advances in packaging equipment demand in the food market will match the overall average and account for 38% of the U.S. sales total in 2017.
U.S. packaging equipment shipments will expand 1.5% per year to $4.3 billion in 2017, a deceleration from the 2007-2012 pace, though roughly on par with production increases in North America as a whole. Rising use of packaging machinery in nearby countries will benefit U.S. suppliers, especially in the developing markets of Mexico and Central and South America.
Packaging machinery shipments will climb the fastest in the Asia/Pacific region through 2017. Not only will smaller firms headquartered in the area increase production, but foreign multinationals will also continue to build manufacturing facilities in Asia to be nearer to their customers as the region accounts for a growing share of global sales. Nevertheless, West European production will increase the most in dollar terms, spurred by strong demand for the technologically sophisticated equipment that these countries produce. The region will remain the biggest packaging equipment supplier, accounting for 51% of world industry output in 2017.
Merger and acquisition activity is fairly common among packaging machinery suppliers, the largest of which are headquartered in developed nations. Industry leaders include Krones and Robert Bosch (both of which are based in Germany), Illinois Tool Works (the US), Coesia (Italy), the Tetra Pak and Sidel subsidiaries of Tetra Laval (Switzerland), and Industria Macchine Automatiche (Italy). These six firms accounted for 21% of global equipment sales in 2012. The industry as a whole is quite fragmented, especially in developing countries, where a great deal of the production capacity consists of small companies that each make a few types of basic units and aftermarket parts.
Developing markets will provide the best growth opportunities for suppliers of packaging equipment through 2017. The Asia/Pacific region will expand 5.7% annually, led by the sizable national markets of India and China. China and India together will account for 21% of global packaging machinery demand in that year. Central and South America will also record a strong sales performance through 2017, though from a much smaller existing market base. Rising personal incomes in these regions will provide the greatest impetus to equipment sales, supported by healthy gains in packaging demand, manufacturing output, and fixed investment spending.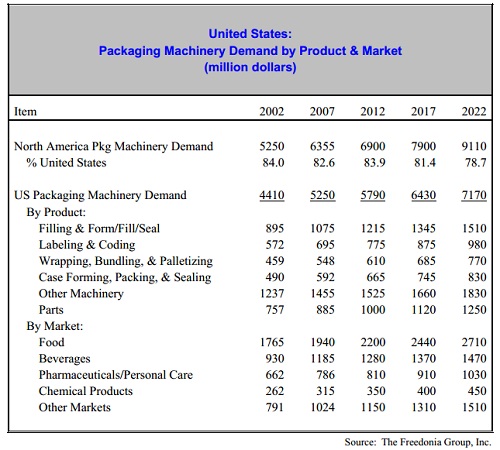 Source:
http://www.mmh.com/article/new_study_projects_world_demand_for_packaging_machinery_to_2017