The new FLIR Ex-Series of entry-level thermal imaging cameras far exceed the capability of other brands in many ways.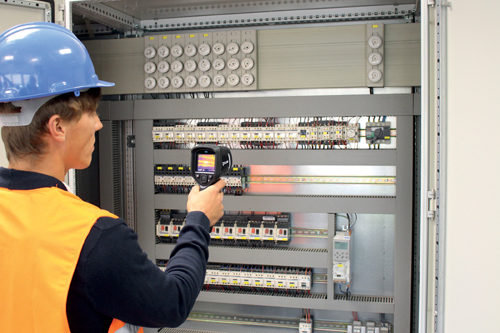 These are true thermal imaging cameras, not instruments that simply take spot temperature measurements or use blended techniques. And they are packed with a variety of features that have never before been seen in this class of camera.
The most important of these features is FLIR Systems' patented MSX-technology that provides exceptional image quality in real time. This results in pin-sharp thermal images, quicker target orientation and clean reports. This technology was previously only available on models in the FLIR T-Series and above, but now it is also included on all of the four new cameras in the FLIR Ex-Series.
A built-in visual camera makes target association and inspection easy. And thanks to FLIR Systems' new multi spectral image storage, MSX can be applied to the stored visual and thermal JPEG images after inspection. Analysis tools are provided as standard with the respective models including spotmeter, area min/max and colour alarm. And all but one also includes the fusion function, picture-in-picture.
As the FLIR Ex-Series is designed for those who are new to thermal imaging they are exceptionally easy to use. These cameras have a fixed focus-free lens, no adjustment is necessary. Just point, shoot and all the required temperature data, up to +250 C, is automatically embedded on the JPEG images.
The new additions to the FLIR Systems' range are also extremely lightweight, just 575 grams, enabling all of the models to be comfortably carried on a tool belt.
The range provides thermal image quality from 80 x 60 pixels up to 320 x 240 pixels enabling entire areas to be scanned in one pass. These cameras also have the ability to see temperature differences as small as 0.06 C. So they are ideal for troubleshooting all electrical and mechanical faults through thermal measurement. They are equally suited to detecting building faults such as insulation losses and problems with under-floor heating systems.
FLIR Tools software is available for free download by all FLIR Ex-Series users, allowing thermal images and associated data to be imported to a PC for basic reporting and analysis. For those who need greater analysis capability FLIR Tools+ is optionally available.
Source:
http://www.electricaldigest.co.uk/test-a-measurement/6279-the-worlds-most-advanced-entry-level-thermal-imaging-cameras