Chinese Internet giant Tencent Holdings Ltd. (SEHK: 0700) will see stake in Sogou.com, the search engine unit of Sohu.com Inc. (NASDAQ: SOHU), rise to about 40 percent in the near future.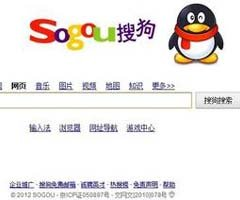 It co-announced with Sohu.com. and Sogou.com in the afternoon on September 16 that it invested USD 448 million in Sogou.com. In addition, it injected its search engine subsidiary Soso.com and related assets into the latter and after the deal, it would control a 36.5 percent stake in the Sohu.com unit. And the figure would rise to about 40 percent in the near future.
Charles Zhang, chairman of the board and CEO of Sohu.com, disclosed in an interview that it had been in talks with the Hong Kong-listed firm for a long period of time and during the period, it negotiated with other firms, too. It reached an agreement with the latter over independent growth of Sogou.com recently and this directly caused them to sign the aforesaid agreement.
Sources said previously that Chinese online security and privacy protection service provider Qihoo 360 Technology (NASDAQ: QIHU) planned to put Sogou.com into pocket with a high price. However, it failed to reach an agreement with team of the latter because it always wanted to spin off and then merger the latter into it.
Pony Ma, chairman of the board of Tencent, said that the cooperative structure among it, Sohu.com and Sogou.com was perfect. On the one hand, the initiative of founding team of Sogou.com was taken into consideration. And on the other hand, the cooperation would urge platform resources of both it and Sohu.com to be well released. And upon completion of the deal, the brand Soso.com would disappear.
Actually, it has become a focal point how both sides will consolidate the search engine business. According to a contract inked by them, Sohu will still serve as the controlling shareholder of Sogou.com after the investment by Tencent and Sogou.com as a subsidiary of Sohu.com will run independently. And in the newborn, Charles will continue acting as the chairman, with Liu Chiping and Ren Yuxin, president and COO of Tencent each acting as a director.
Pony reiterated that the merger did not mean that it failed to enter the domestic search engine market. Its search engine unit saw share in the domestic PC market be small in the past and this had a close tie with its poor ability in channels. And for instance, it did not well in the field of browsers. It made some progresses, but had lost the best time window.
Source:
http://www.sinocast.com/readbeatarticle.do?id=99439