PS4 Pro vs PS4: Everything you need to know about how the PS4 Pro compares to its predecessor.
The PS4 Pro is finally a real thing after months of speculation under the former guise of PS4 Neo. And while the company says it isn't an entirely new console generation, it does bring a host of upgrades to the table.
The main draw is support for 4K HDR gaming but there's a few more important differences between the Pro and the newly redesigned standard console, which now comes in a more slimmed down case.
So, what exactly is the difference between the PS4 Pro and the PS4? Read on for all the information you need.
PS4 Pro FAQ
PS4 Pro release date: 10th November
PS4 Pro price: £349 from Amazon.co.uk | $399 from Amazon.com
PS4 Pro specs: More 2x faster AMD GPU, faster CPU and HDR support
PS4 Pro vs PS4 (also the PS4 Slim) – Power and features
The PS4 Pro will exceed the original console in terms of processing power. Sony didn't provide overall figures, but it did claim the new AMD Polaris architecture GPU is more than twice as fast as the PS4's.
These are the new PS4 Pro specs:
Main processor: Custom-chip single Processor
CPU: x86-64 AMD "Jaguar," 8 cores
GPU: 4.20 TFLOPS, AMD Radeon based graphics engine
Memory: GDDR5 8GB
Storage size: 1TB
External dimensions: Approx. 295×55×327 mm (width × height × length) (excludes largest projection)
Mass: Approx. 3.3 kg
BD/DVD Drive: BD × 6 CAV, DVD × 8 CAV
Input/Output: Super-Speed USB (USB 3.1 Gen.1) port × 3, AUX port × 1
Networking: Ethernet (10BASE-T, 100BASE-TX, 1000BASE-T)×1, IEEE 802.11 a/b/g/n/ac, Bluetooth 4.0 (LE)
Power: AC 100V, 50/60Hz
Power consumption: Max. 310W
Operating temp: 5oC – 35oC
AV Output: HDMI out port (supports 4K/HDR) DIGITAL OUT (OPTICAL) port
So, what does that mean in terms of performance in comparison to the PS4? Well, the Pro will run games faster, with fewer framerate tears in more intensive games, providing a smoother gaming experience across the board. The increased GPU, which is more than double that of the original PS4, should go a long way, towards making that happen.
All new and recent PS4 games are required to support a 'Pro' mode, which means either improved resolution and/or increased texture and effects quality. Crucially, games that support an increased '4K' mode have to run as smoothly as they do on the standard PS4 console. Even if you don't have a 4K TV, games will look better on the PS4 Pro, though to what degree is down to the developer.
Of course, the PS4 Pro adds support for 4K output to facilitate all of this, meaning you'll be able to play games and stream certain content in Ultra HD provided you've got a 4K-ready TV set. It'll also upscale some games to 'near 4K' and offer improved frame rates – a welcome, if imperfect enhancement.
Watch PS4 Pro: Everything you need to know
Disappointingly, the PS4 Pro doesn't feature a 4K Blu-ray player – though obviously neither does the new PS4 proper, which also won't be able to play games or stream content in 4K.
However, Sony's latest software update has introduced support for HDR video and gaming for the standard PS4 console (both the new slim design and the original console). That means that while the PS4 won't be able to stream or play games in 4K, it will bring HDR enhancements to content, which include brighter whites, more natural colours, and more detail preserved in the image. Naturally, the PS4 Pro will also support HDR, but you will need an HDR-ready set in both cases.
Another reason for the performance boost on the Pro is the impending arrival of PSVR, which launches later this year. Both the PS4 and PS4 Pro will be able to support Sony's new virtual reality platform. But some developers have expressed disappointment that the current PS4 tech is a bit of a bottleneck when it comes to virtual reality.
The complaint stems from the fact Sony has specified that all VR games have to run at 60fps minimum to avoid any issues with lag and motion sickness, which is a tricky task for the current PS4. The Pro console's extra processing grunt will ensure the experience is smooth without developers having to compromise too much on graphical detail.
PS4 Pro will also be capable of capturing 1080p video and 4K screenshots by using specific hardware or the Dualshock 4's share button. These can then be stored on the local hard drive or transferred to other devices via a USB. Either way, you'll be able to share some truly stunning pics on social media.
Those upgrading from a standard PS4 to a PS4 Pro will be able to transfer all their saved data using an Ethernet cable, meaning you shouldn't lose too much if you plan on upgrading. Once your current PS4 is upgraded to firmware version 4.0, you can find an option to transfer via Ethernet hidden away in the settings menu.
PS4 Pro vs PS4 – Software
The promise of double the graphics power suggests we'll be getting some amazing games in the future, but Sony has previously told developers the the PS4 Pro cannot have "exclusive" games of its own; all software must work on the older hardware, be it the original PS4 or the slimmer 2016 model.
However, games will be allowed to have Pro-exclusive improvements such as higher-res textures, better resolutions and improved frame rates, provided they still run at an acceptable pace on the original console.
"Pro-Enhanced" versions of PS4 titles can be identified by the following logo on packaging. Our guess is the same information will appear on the PlayStation Store alongside digital titles.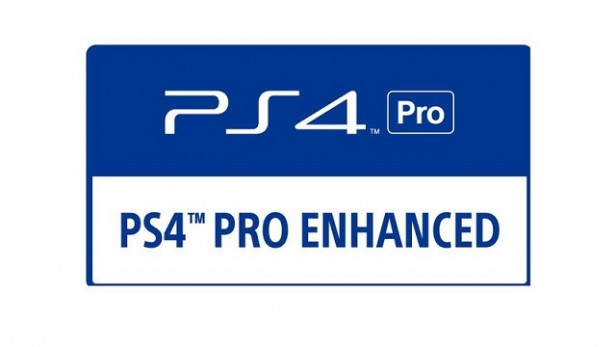 This is going to be a bit of a double-edged sword for developers. On one hand, they'll have more power to play with, which means better frame rates and higher resolutions. But they'll also have to make sure their games scale down to the older machine. This adds a whole load of extra work and means development teams may have to grow to handle the increased faff.
Ultimately, this means we may not see the true potential of the Pro realised until well into 2017, when studios have properly adapted to the new workload.
PS4 Pro vs PS4 – Design and accessories
The PS4 Pro is big. It'll measure 295mm x 55mm x 327mm (width by height by depth) and weigh a hefty 3.3kg.
The new PS4 on the other hand is basically a slimmed down version of the original PS4 (hence why it was known as the PS4 Slim prior to launch). At 265mm wide x 39mm high x 288mm long, it won't be much smaller than its predecessor, which measured 275mm x 53mm x 305mm, but it will be significantly thinner.
And while the new PS4 consoles may sport new looks, don't expect accessories to change radically. The new DualShock 4 controller comes with a light on the touchpad, but the design will fundamentally be the same, so the only real accessory addition is the PlayStation VR, which both machines will support.
PS4 Pro vs PS4 – supported games
The PS4 Pro may have just been unveiled, but a handful of publishers and developers have already confirmed their games will support the system, adding 4K-upscaling and HDR support with future updates.
We've made a full list of games below, which we'll be adding to as more are announced:
Call of Duty: Black Ops 3
Days Gone
Death Stranding
Deus Ex: Mankind Divided
Dishonored 2
Final Fantasy 15
For Honor
Horizon: Zero Dawn
Infamous Second Son/First Light
Call of Duty: Infinite Warfare
Killing Floor 2
Mass Effect: Andromeda
Middle Earth: Shadow of Mordor
Call of Duty: Modern Warfare Remastered
PES 2017
Resident Evil 7
Rise of the Tomb Raider
Spider-Man (Insomniac)
The Last of Us
Uncharted 4
Watch Dogs 2
PS4 Pro vs PS4 – Price and release date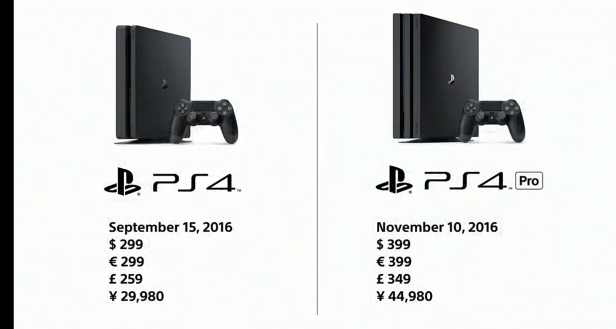 The new slimmer PS4 is set to retail for £259 here in the UK, $299 in the US and €299 in the EU, with Sony saying it'll be available in "most markets" by September 15, which we'll assume covers all of the regions where it's been officially priced up.
The PS4 Pro will be a bit more expensive when it launches on November 10 for £349.
Expect real bargains on the original PS4 console going forward, too, as it's being effectively shuttered by Sony, so keep an eye on our PS4 deals page for all the latest.
PS4 Pro vs PS4 – Final thoughts
Depending on your gaming and media needs, both the PS4 Pro and new PS4 look like good value for what they offer. The PS4 Pro will support more cutting edge games going forward, but as both support the forthcoming PlayStation VR platform, there'll still be a fair bit of futuristic fun to enjoy either way.
There's no doubt the PS4 Pro is a better, more capable machine. And, for £100 extra you're getting something that is firmly future-proofed, what with its support for 4K and HDR.
However, it all depends on what you're upgrading from and your budget, but if you're still stuck on an ageing PS3 or Xbox 360 you should put the PS4 Pro or new PS4 on your shopping list now, because both stand to radically improve your gaming experience.
And if you already own a PS4, right now the PS4 Pro feels like a wait and see purchase. Its improved processing power could be brilliant, but we want to see more before we make such assertions.
We'll continue to update this page as more information becomes available, so check back regularly for all the latest.
Source:
http://www.trustedreviews.com/news/ps4-pro-vs-ps4