Lema showcased their furniture collection at the Milan International Furniture Fair 2015, furniture and furnishing accessories designed by famous names in the international design sector, in addition to emerging designers, that underscore the company's ability, unique in the furnishing world, to convey different design approaches in a very articulated, but always coherent collection.
MEMO Table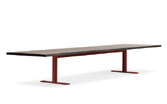 A brand-new table defined by its minimalist character and the extra dimensions. The protagonist is the metal at the base available in the finishes matt brushed aluminium, lacquered red and black lacquer combined with the thermally-treated oak top, a new perfect example of the Lema's wide capacity to match each other heterogenous material, creating refined proposal for contemporary living.
YARD Sofa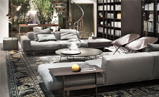 Yard, designed by Francesco Rota, aims at better matching the upholstered units with the supporting and holding units. The concept aims at finding the perfect matching between systems. Lema core business, and the sofas. Thus upholstered volumes are perfectly integrated with tops, shelves, small tables and units which used in different positions and configurations, lead to different multi-function compositions.
The structure in metal covered in fabric, is a top supported by feet, jointed through triangle joints, making a support for cushions and arms, besides becoming a useful support for shelves and containers. The wise seat and back size are underlined by a slight tapering making the entire sofa line soft and rounded as well, while used materials (polyurethane and feathers) provide for comfort and the correct proportion between the soft and hard part.
The Yard system, covered in precious leather: the light structure in metal supports a long cushion, whose visible sewing shapes a modern capitonné patterns, matched with the diamond-shape cushion.
WINSTON Bar Cabinet

Winston is an exclusive piece of furniture inspired to traditional Chinese furniture, discreet and mysterious from the outside, but full of surprises, details and qualities inside. A modern box of wanders in fact, previous details like the mirror bottom and inserts in leather and metal are revealed when opening the doors, designed to contain bottles and glasses and their thickness.
Super-equipped, The light suspended base is in bronzed metal while the panels are characterised by the elegance of the Canaletto walnut texture.
Source:
http://www.furniture-magazine.com/news/article/lemas-collection-milan-design-week/