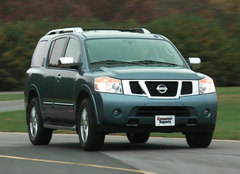 Developed alongside the full-sized Titan pickup truck, the Nissan Armada was created to compete against the domestics back when gas was cheap and large SUVs were common suburban transport. It is big, brash, powerful, oddly styled, and rather long in the tooth.
The Armada was introduced in 2004, and it has soldiered on for nearly a decade with minor, albeit ongoing updates. We bought an Armada to see if it this mighty Nissan can stare down its tough contemporary competition.
We've noticed that the ride has improved over the years, but body motions and jiggles remain frequent, especially at lower speeds or on uneven pavement. Things are more settled on the highway.
Visit our SUV buying guide for quick access to the latest advice, Ratings, road tests, and videos.
A sole powertrain is offered: a 317-hp, 5.6-liter V8 engine matched with a five-speed automatic transmission. The combination is refined and responsive, with strong, effortless acceleration and a noticeable V8 rumble. But fuel economy of 13 mpg overall is bad even for a large SUV. On the upside, it has a generous 9,000-pound tow capacity.
There is no escaping the size and heft of this big SUV. But for those buyers who prize eight-passenger seating, off-road credentials, strong acceleration, and trailer-towing acumen, the Armada does have its appeal.
The video below provides more highlights from our detailed Armada road test. In researching the Armada, be sure to note its spotty reliability track record before signing the bottom line.
Ultimately, we favor other, more modern models in this segment, such as the Chevrolet Suburban, Dodge Durango, and Toyota Sequoia. As long as you don't have to tow super-heavy trailers or tackle extreme off-roading, a three-row crossover, like the Chevrolet Traverse, might be a better fit.
If in the market, definitely do your research and explore the options, before buying what is essentially a decade-old vehicle.
Source:
http://news.consumerreports.org/cars/2013/05/video-nissan-armada-proves-big-brash-and-dated.html#comments