Royal Warrant holder Hainsworth has created a limited edition Coronation Throw to celebrate the 60th anniversary of The Queen's Coronation.
The luxuriously soft Lambswool blanket is inspired by the colours of the Union Jack and is the perfect way to commemorate this very special occasion.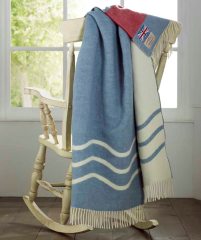 Each throw is beautifully made and hand-finished in Hainsworth's woollen mill. The Yorkshire company was founded in 1783 and has a heritage spanning seven generations.
Royal Warrants are a mark of recognition to individuals or companies who have supplied goods or services for at least five years to the Households of The Queen, The Duke of Edinburgh or The Prince of Wales. Warrants have always been regarded as hallmarks of quality, excellence and service.
Hainsworth was awarded its Royal Warrant in 2004 and its Interior Fabrics are used as curtains at Windsor Castle and for the interiors of Buckingham Palace. It is also well known for manufacturing the famous Hainsworth Guard Scarlet cloth which is worn by the Queen's Guards outside Buckingham Palace and will be on display during this year's pageantry.
Sixty years ago, Hainsworth provided the iconic cloth for the military to wear at The Queen's Coronation. In 1953, the Mill provided the Ministry of Supply with cloth to make the uniforms of the Officers of all the Armed Forces involved in the Coronation.
In July, the company has been invited to attend the Coronation Festival to celebrate the 60th anniversary of The Queen's Coronation.
Hainsworth will join more than 200 Royal Warrant Appointed exhibitors for four days from July 11-14 to demonstrate their excellence in beautiful product displays in the Gardens of Buckingham Palace.
The Coronation Festival will celebrate innovation, excellence and industry showcasing the broad range of fine brands which have earned the recognition of a Royal Warrant over the years.
Source:
http://www.fibre2fashion.com/news/textile-news/newsdetails.aspx?news_id=147377