Taiwan's machine-tool makers are rushing to keep up with market trends and address the issues of labor cost, production efficiency, and quality by introducing machines that are ever-more automatic, intelligent, and efficient.
Already the world's No. 4 machine-tool exporter with export revenues totaling US$3.5 billion in 2013, Taiwan is well-positioned for the further development of high-performance machine tools thanks to the solid foundation that has been laid down by well-developed electronics and precision-components industries.
Among the island's foremost machine-tool makers is Campro Precision Machinery Co., Ltd.,?which was founded by a team of machine-tool veterans?in 2003 to specialize in CNC machining centers. Its CPV and CPV-B?series?of vertical machining centers, which can cut rough workpieces into?refined products without depending on polishing or grinding machines, are among its most striking products.
Campro's CPV-series machines can cut a rough workpiece into a refined product with no need for polishing or grinding machines.
The CPV series, coming in models with X-axis travel distances of 550 millimeters, 750 millimeters, 900 millimeters, 1,100 millimeters, and 1,300 millimeters, is specifically designed for making 3C?(consumer electronics, computers, and communications) components. The machines save?space, occupying less than three square meters. Their spindles turn at 8,000, 10,000, 12,000, or 15,000 revolutions per minute, depending on model.?The CPV-550 and CPV-750 models have an?X/Y/Z axis traverse?of 30 meters by 30 meters by 30 meters per minute; for the CPV-900 and CPV-1100 models the corresponding figures are 36/36/24 meters, and for the? CPV-1300 model 24/24/24 meters.
Different Machines for Different Needs
In contrast to?the lightweight workpieces that the CPV series is designed for, the CPV-B series is developed with an all-square guideway structure for heavy-duty cutting on components used in cars, motorcycles, molds, aircraft, and medical equipment. The series includes the CPV-850B, CPV-1100B, CPV-1200B, CPV-1400B, and CPV-1600B models, the numbers of which refer to the X axis travel distance in millimeters.
Given?their heavy-duty purpose, B-series spindles turn at slower speeds of 6,000-8,000 revolutions per minute so as?to generate higher torque force. The X/Y/Z-axis traverse distance is 20mm x 20mm x 20mm, 20mm x 20mm x 15mm, 15mm x 15mm x 15mm,?or 15mm x 15mm x 12mm per minute, depending on model. The B series is slightly bigger than the CPV series, occupying four to five square meters of floor space.
Thorough quality inspection using international-standard laser and ball-bar measurement?is carried out on all of the company's machines before they are?shipped.
The?company's sales manager, Kevin Mao, reports that?Campro witnessed a sales increase of 30-50% in the first half of this year?compared with the?same period of 2013, mainly because of?the market recovery in Asia, including mainland China. "We've felt stronger market demand in Asia than in Europe and America," he comments. In Asia, the company's major customers are makers of vehicle components, electronic products, and energy-exploration equipment. In Europe most of its machines?go to medical-equipment and precision-component makers, and in America the?majority of buyers?are?vehicle-parts makers and aircraft manufacturers.
Campro is a medium-sized machine-tool maker, but Mao claims that its products?are pricier than those made by many of Taiwan's big manufacturers. "Our output quantity is not as?big as theirs," he explains,?"but we provide more tailor-made specifications than they do."
Mao says that his?company spends around 30% of its revenue on the development of customer-contracted designs, and that the spending has paid off in an increasing amount of repeat orders. "Since Taiwan's machine tools meet international standards for?accuracy," he goes on, "the foremost?task for the island's manufacturers now is to refine their machines more so as to meet?customer needs better."
Robotics for Increased Efficiency
The?JL-50400 CNC double-column profile surface grinder?supplied by Joen Lih Machinery Co., Ltd. obviates the need for?equipment users to spend on polishing machines for the final refinement of workpieces from?one to six meters long.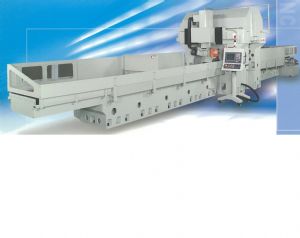 The JL-50400 CNC double-column profile surface grinder from Joen Lih has a polishing function that enables it to turn out refined workpieces.
What makes this grinder unusual is that it is a linear guideway?model?with two vertical spindles and one horizontal spindle that can work at the same time, with the vertical spindles grinding the left and right sides and the horizontal spindle grinding the top side of a workpiece. "You know, linear guideways?are?sensitive to trembling, which can affect processing accuracy," comments Maria Chen, a company manager. "The employment of?a linear guideway attests to the quality of the design, which allows our machine to conduct grinding smoothly and reliably."?The manager claims that Joen Lih is one of the two Taiwanese grinding-machine makers to integrate linear guideways?into their machines.
A crucial design element that ensures processing accuracy is?a reinforcement support that prevents deformation of the?four long linear guideways in the Y axis throughout the entire process, keeping tolerance?within just five microns. Another essential element is the permanent magnetic chuck that?firmly fixes workpices for grinding.
A?highly rigid and stable mechanical structure also contributes to?processing accuracy. The structure is?made of die-cast FC30 metal and is subjected to tempering treatment and the natural stress relief approach to eliminate internal stress.
The machine's spindle, diamond grinding wheel shaft, and?linear encoder are equipped with a sealing system that keeps vapor and particles from seeping into the machine's bearings and linear scale, ensuring a longer service life.
Like many other Taiwanese machine-tool makers, Joen Lih is developing robotic technology to make its?products more efficient and automated. The JL-200SCG and the JL-300SCG high-precision wafer surface grinding machines will be?the first of its machines to be connected to robotic arms, which will be used to place silicon wafers on the grinding machines for grinding and polishing. The two machines now boast a wafer-thickness tolerance?within 1.5 microns. "The demand for robotic arms on wafer machines?is on the rise," Chen explains, "as manufacturers deploy automatic material loading and unloading mechanisms in their production processes to boost precision and save labor costs."
According to Chen, Joen Lih is the only Taiwanese grinding-machine maker that builds products for wafer-polishing proposes. She?points out that grinding machines make up a relatively small sector of the machine-tool industry compared with machining centers, turning machines, and milling machines. "Usually," she explains,?"only one grinding machine is required for every three milling machines, turning machines, or machining centers, because grinding is a secondary-processing tool?for?workpieces cut by those machines."
Her company?turns out a total of 10 CNC grinders and 150 NC and manually-operated grinders?a month, equipping them with Siemens and Fanuc controllers and tailor-made software programs as part of the effort to provide customers with CNC grinding turnkey solutions. The products are sold under either the company's own "JL" brand or customer brands.
In?its relatively small?market, Joen Lih faces major competitors from Europe and Japan.?Her company, Chen says, is working hard to develop machines that stress three characteristics: high precision, strong functionality, and excellent processing results. She adds that Japan-made machines usually emphasize good processing results while European machines are noted for strong functionality and processing precision. "We're working with the MSRL [Mechanical & Systems Research Laboratories of the government-backed Industrial Technology Research Institute] and our foreign customers on building these three characteristics?into our machines," she says.
Machines for Making Molds for the?Aircraft Industry
Among the machines currently being promoted by Ching Hung Machinery & Electric Industrial Co., Ltd., ?currently Taiwan's No.1 and the world's No. 5 electric discharge machine (EDM) manufacturer,?is the AD5L-series CNC high-speed small-hole drilling EDMs for making molds used in the aircraft industry.
The AD5L-series CNC high speed small-hole drilling EDMs from Ching Hung are perfect for making molds for the aircraft industry.
These machines?offer many attractive features, including?a small footprint of 1900mm x 2100mm,?invert-controlled high pressure pump, linear motor, large submerged work tank, invert spindle, and universal canned cycles/codes and offline programming.
The pressure pump increases flush pressure as the drill goes deeper, the linear motor with glass scales in the X axis increases positioning speed and improves accuracy, the work tank allows for the?addition of submersible A-axis and B-axis tables from various manufacturers, the invert spindle reduces electrode wear and improves drilling accuracy, and?canned cycles such as CHMER and edge find can be used for drilling.
Ching Hung derives many advantages from its position as world leader in its sector. One of these is the ability to make over 90% of the crucial components for its machines, including?linear motors and PC-based controllers,?in-house. "We're one of the world's two EDM makers that have integrated linear motors into?our machines," says company director Brad Wang. "The use of linear motors generally requires high-end technology because when driving the cut wire on an EDM to cut a workpiece, the motor must overcome the torque and the heat it faces. These factors can affect cutting precision."
The motor?replaces a?ballscrew. According to the company's data, the?average error for five cuttings with the liner motor is 0.20 microns, while with a ballscrew the error is 0.28 microns. The automatic wire threading (AWT) device is another of the company's?advantages, allowing completion of threading in only six seconds, the world's fastest.
When a large number of electric-discharge machine (EDM) makers around the world having withdrawn from?the industry as a result of overcrowded competition and the intrusion of cutting-machine makers into their primary mold-manufacturing market, Ching Hung has branched out into the high-speed milling machine and high-end double-column tapping center sectors. "Thanks to the?high self-content ratio of our key components," Wang stresses,?"we haven't encountered much difficulty in carrying out our product expansion."
Also equipped with linear motors, the company's high-speed milling machines and double-column tapping centers are aimed at the high end of the market.
Spending at least NT$30 million (US$1 million at NT$30:US$1) a year on R&D and?introducing a new machine every thee months, Ching Hung is also developing robots in line with current trends.
The company's machines hit?the market carrying the company's own?"CHMER" and "AMStech" brands,?the former for the general market and the latter for the high-end market.
According to Wang, Ching Hung's business has?recovered substantially from the 2008 global economic turmoil, reaching a post-crisis growth peak?in 2010.?The company is currently expanding its production capacity to deal with an increasing?flood of?orders.
Developing an Intelligent Five-axis Control System
Specializing in CNC five-axis machining centers for making vehicle parts, templates for electronic components, and parts for aircraft and defense equipment, Leaderway CNC Technologies Co., Ltd.?is working with more than 10 other local manufacturers, the government-backed Industrial Technology Research Institute (ITRI), and several domestic?universities?on the development of an intelligent five-axis control system.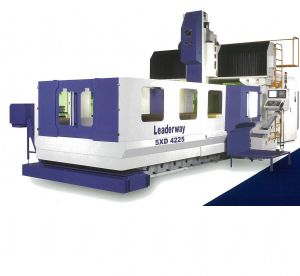 The speed of Leaderway's five-axis machines has been accelerated from 15,000rpm to 24,000rpm, thanks to technology developed by ITRI.
According to the company's chairman, Dr. Paul Chang, the intelligence to be developed in the system involves the?ability to enable remote control of the machine by smartphone with cloud apps, detect the remaining work cycle of spindle, and accomplish three settings: perfecting workpiece exterior finishing, speedy machining with acceptable accuracy, and high accuracy but slow processing.
The maker is also working with a team of Ph.Ds from National Tsing Hua University and National Chiao Tung University on the development of machines for making precision medical equipment.
The five-axis machines that the company offers today have a speed that has been upgraded from 15,000rpm to 24,000rpm using?technology developed by?ITRI.
The firm's?five-axis?5XV, 5XD, 5XS, and 5XA models are designed primarily for the processing of workpieces weighing from 100 kilograms to 20 tons.
The 5XV?comes with a two-axis turntable, the 5XD with a bridge-construction two-axis rotary head, the 5XS with a one-axis rotary spindle and one-axis turntable, and the?5XA with a one-axis universal head and one-axis turntable.
Major structural parts of the machines are made of Meehanite cast iron and tempered for stress relief. A pneumatic-type balance system minimizes spindle head vibration caused by?spindle rotation. Five-axis synchronous motion shortens machining time, reduces repetitive workpiece setup, lessens error, and boosts accuracy.
With?a Siemens 840D, FANUC 31iA5, Heidenhain iTNC530, or Midasy 5NC controller, these machines?have an?extremely short setup time, assure high processing accuracy and high-speed machining, eliminate tool-to-workpiece collision, and are user friendly.?
Chang set up Leaderway 12 years ago after leaving the 33-year-old Leadwell CNC Machines Mfg. Corp., which reportedly introduced the first Taiwan-made CNC machine tool.
Source:
http://www.cens.com/cens/html/en/news/news_inner_46823.html