Tips When choosing tiles for bathrooms, go for matte tiles rather than glossy ones. This is because the fear of slipping is more in such places. If you want a shiny tile, apply a coat of no-slip solution on it.
Having a beautiful and stylish home without harming the environment is amazing, right?, With the abundance of green products available in the market, using eco-friendly products is the ideal way. These products are made from sustainable, recycled, and non-toxic materials. Eco-friendly options don't cost more than normal options either. In fact, they give you more benefits in the same price. You can be proud that you are not damaging the environment. Flooring is the best place to start your green remodel. We have come up with some eco-friendly flooring options so that you can flaunt these with style.
* Disclaimer: Prices may differ according to offers and location.
1. CORKAverage priceUSD 1.50 - 4 per sq ftBest forLiving room, kitchen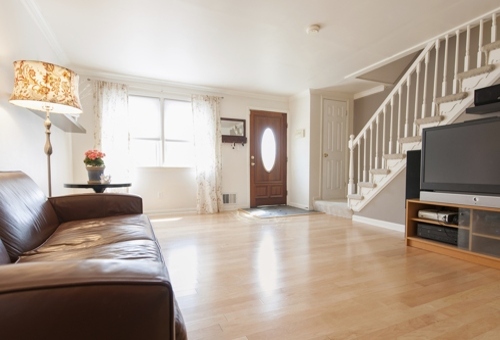 Cork flooring for the living room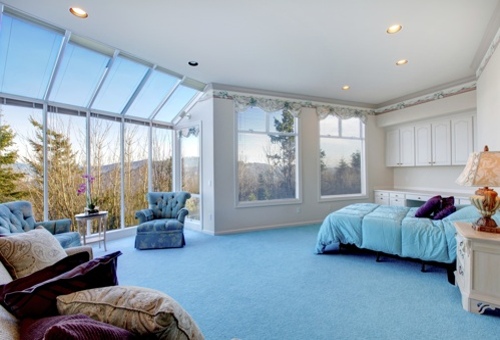 Cork flooring for the bedroom
Cork is obtained by peeling the bark of the Quercus suber tree, commonly called cork oak tree. It can be harvested every 9 years once the tree matures, without killing the tree. Cork that used for flooring is recycled, as it is mostly acquired from the wine stopper manufacturing process. Suberin, a waxy substance present in the cork tissue, makes it waterproof. It is antimicrobial, fire-resistant, and also provides thermal insulation. Cork flooring is aesthetically appealing as it is available in various colors and styles. It is very durable, resilient, and has natural elasticity.
Care: Clean up spills immediately. Choose a cleaner, which is safe on cork. Every few years, cork flooring needs to be sealed.
2. BAMBOOAverage priceUSD 2 - 5 per sq ftBest forLiving room; also good for a kitchen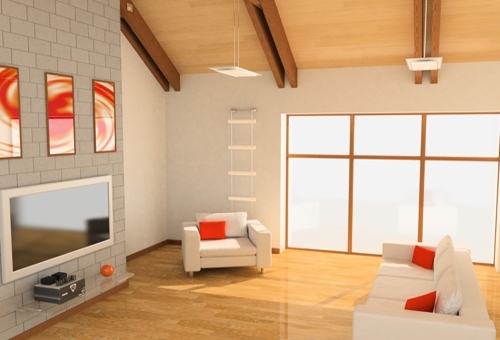 Bamboo flooring for the living room
Bamboo flooring for the kitchen
Bamboo is one of the fastest-growing plants in the world. It is highly renewable and a sustainable source. Mostly, Moso bamboo species is used for flooring. It can grow up to 47 inches in 24 hours and 78 feet high in 40 to 50 days. Also, the root is left intact after harvesting. This makes bamboo an ideal option for flooring. Hardwoods take a long time to mature, whereas bamboo matures quicker. Bamboo is very sturdy; in fact it is 3 times sturdier than oak hardwood. It is resistant to water and insects as well.
Care: Use mild cleaners on bamboo. Clean up spills immediately.
3. LINOLEUMAverage priceUSD 2 - 5 per sq ftBest forLiving room, kitchen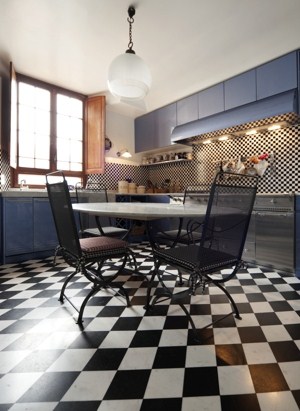 Linoleum flooring for the kitchen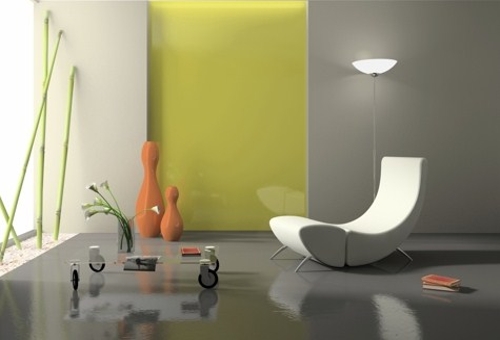 Linoleum flooring for a modern living room
Linoleum is biodegradable as it is made from solidified linseed oil, pine rosin, ground cork dust, and wood flour. It also has mineral fillers such as calcium carbonate; pigments are also added to the materials. It is hypoallergenic, biodegradable, antistatic, dust-resistant,, fire-resistant, and extremely durable. Linoleum is inexpensive, but it looks very classy.
Care: Linoleum is easy to clean; mop or sweep it regularly.
4. RECYCLED TILESAverage priceUSD 35 - 100 per sq ftBest forBathroom, kitchen, living room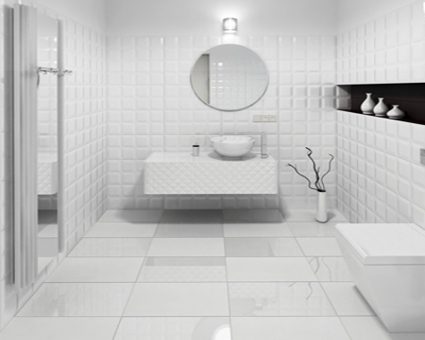 Recycled tiled flooring for a bathroom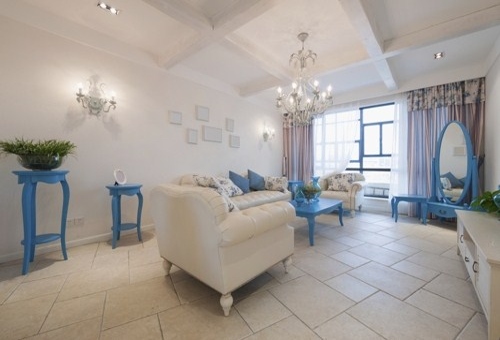 Recycled ceramic flooring for the living room
Using recycled tiles is another eco-friendly option you have. There are companies that make beautiful tiles from 100% recycled glass or ceramic. The waste from construction sites is usually disposed in landfills. It can be diverted to make usable items like tiles. Ceramic or glass tiles are colorful, stylish, and durable. They are impervious to water, so they can be used in bathrooms or for landscaping.
Care: A mop can be used to clean tiles. Make sure that there are no gaps, as stains could easily penetrate inside.
5. STONEAverage priceUSD 7 - 35 per sq ftBest forLiving room, bathroom, kitchen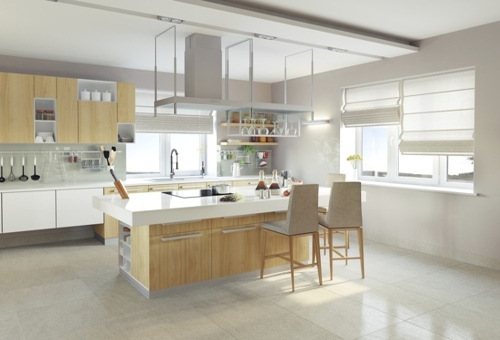 Stone flooring for the kitchen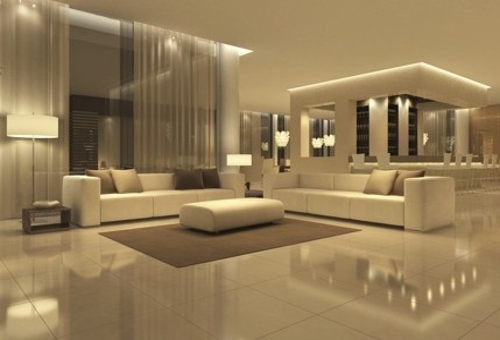 Marble flooring for a living room
Mostly marble, granite, or slate is used for flooring. Stone floors look very glossy, elegant, and never go out of style. Many colors and textures are available in a variety of stones. Rare colors and patterns will cost more. Stone flooring is ideal for warm climates as the stone remains cool. It is sturdy, durable, and resistant to dust. So, give your living room a very chic look with these natural stones.
Care: Stone floors need sealers every 3 - 5 years. Cleaners with citric acid are not suitable for marble floors. Talk to your manufacturers about the recommended cleaners.
6. CARPETS MADE FROM NATURAL FIBERSAverage priceUSD 3 - 13 per sq ftBest forBedroom, living room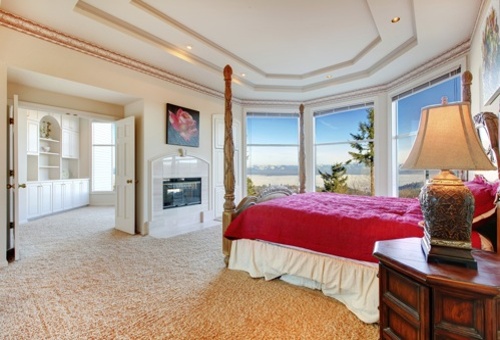 Carpet flooring for the bedroom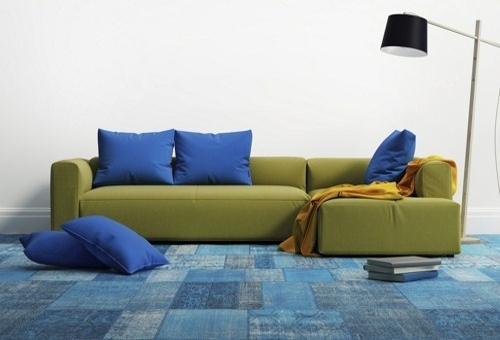 Carpet flooring for a living room
Handwoven Jute
Jute carpeting is eco-friendly as jute plants grow very fast and do not need fertilizers. Ideal for bedrooms, the rugs are very soft and comfortable. They are recyclable and biodegradable as well, but cannot be used in bathrooms as the moisture will damage them. If you want to change the look without too much hassle, using carpets is the best option.
Coir
Mostly used for entrances or hallways, it is very durable. Coir is made from the husk of coconut shells. It gives a nice, different, and unprocessed look. It is inexpensive and is available in a variety of textures and colors. Again, it is not suitable for bathrooms.
Natural Wool Rug
Wool rugs give a very elegant and rich look to your bedroom. With the huge options available, you can give your bedroom a new look instantly. They are resilient, get cleaned easily, and are naturally fire-resistant. Wool is hypoallergenic, antibacterial, and very durable too. It is biodegradable and a renewable source. The only disadvantage is that it can be a bit heavy on the pocket.
Carpets are sustainable, as dyeing methods use less energy than the other flooring options; however, ensure that no toxic chemicals are used for colors.
Care: Carpets need extra care in the rainy season. Take extra care not to spill anything. Make sure that the carpets are dry.
The right flooring option for you will depend on your budget, location, preferences, and needs. Do remember that regular maintenance and cleanliness is very important for better durability of the floor.
Source:
http://www.buzzle.com/articles/best-eco-friendly-flooring-ideas-for-your-home.html