Arnott's Biscuits has been fined $51,000 by the Australian Competition and Consumer Commission (ACCC) over false or misleading packaging.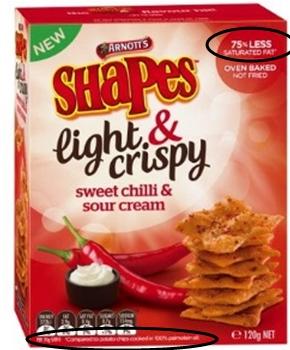 ACCC has slapped fines on Arnott's after the company falsely claimed that its Shapes Light & Crispy product contained 75% less saturated fat than its original Shapes biscuits, when in fact it contained only 60% less saturated fat than original Shapes.
The Australian regulator said that Arnott's has compared its Shapes Light & Crispy product not to original Shapes but to potato chips cooked in 100% palm oil in making fat content claims on the packs of four varieties of Shapes Light & Crispy and a multipack between October 2014 and July 2015.
Though the comparison was included in a fine print disclaimer at the bottom of the packs, it was inappropriate and misleading as only 20% of potato chips sold in Australia are cooked in palm oil.
ACCC chairman Rod Sims said: "Consumers should be able to trust the claims that businesses make to sell their products. Small print disclaimers cannot correct false or misleading representations which are made in a prominent way in advertising or on packaging.
"Businesses must ensure that any comparison claims they make are accurate and based on meaningful comparisons for consumers. This is particularly the case regarding claims that involve healthier eating.
"Truth in advertising, particularly where misleading claims are made by large businesses, is a priority enforcement area for the ACCC."
Arnott's has provided a court enforceable undertaking that it will not make a claim comparing its product with a third party product for a period of three years without clearly identifying the products that are the subject of the comparison in a sufficiently prominent manner; and ensuring the comparison is appropriate having regard to all facts and circumstances.
The company also said that it will establish and implement a supplementary compliance program designed to minimize the risk of future breaches of the provisions of the ACL concerning false, misleading or deceptive representations or conduct.
Image: Arnott's Biscuits Shapes Light & Crispy. Photo: courtesy of the Australian Competition and Consumer Commission.
Source:
http://foodproducts.packaging-business-review.com/news/arnotts-biscuits-pays-51000-in-fine-over-misleading-packaging-231115-4734082