Philips has partnered up with Perkins Products, a provider of education, services and products to the blind, deafblind, and those with disabilities to develop LightAide, a new LED device designed as a teaching tool for children with low vision or other disabilities. Arrays of multi-colored LED lights in LightAide can be programmed and manipulated in various ways to help children get ready to learn reading, math and critical interactive skills. The product will be demonstrated at the Perkins Products booth during the Abilities Expo Boston, September 20-22 at the Boston Convention & Exhibition Center at booths 640 and 636 (Hall C).
Both Perkins and Philips have histories of innovation and collaboration, and this latest partnership was sparked by Philips employee Catherine Rose. Rose was working for Philips Healthcare when she noticed that the type of LED lighting used in the Philips Color Kinetics showroom could capture the attention of her seven-year-old daughter Alexis, who is deafblind. Realizing that the interactive displays of colored light could be a powerful learning tool, Rose suggested that the company look into developing an interactive light product for children with disabilities.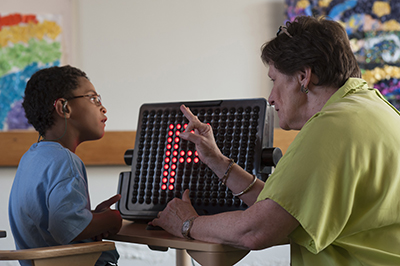 Teachers of students who are deaf or deaflbind have a new, attractive, interactive teaching tool. (LEDinside/Perkins)
With support from Philips' Lighting and Healthcare groups, Rose moved forward with a project that brought together Philips Color Kinetics engineers and staffers from Perkins Products. Educators and therapists at Perkins School for the Blind conducted tests and advised the designers. That interaction evolved into an increasingly sophisticated series of prototypes, incorporating feedback from teachers and students. Starting from a 7x7 prototype grid of 49 LED points of light, the final version of LightAide with 224 LEDs in a 14x16 grid features an oversized switch button manageable for little hands with limited motor skills. A control panel on the side allows teachers to choose from a variety of educational activities.
"As the mother of a child with low vision, Catherine Rose was in the unique position to really understand the needs and challenges of teaching children with this type of disability and with advice from professionals at Perkins School for the Blind we have been able to co-develop a product that can make a difference in their ability to learn," said David Morgan, Perkins Vice President and General Manager of Perkins Products.
According to Martha Majors, Assistant Education Director of Perkins Deafblind Program, children with very low vision are often attracted to and fascinated by bright light. "So what we've got in the LightAide," she says, "is a dynamic teaching tool that can interest and motivate kids, teach important skills and promote interaction."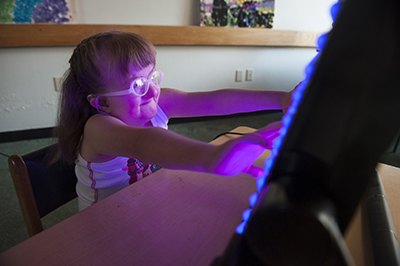 Bright LED lights and a tactile screen make LightAide an effective, interactive learning tool for children with impaired. (LEDinside/Perkins)
LightAide is designed to help young children with low vision to develop pre-reading skills by sequencing lights in a left-to-right pattern, the way people read print or braille. Early learners also practice essential age-appropriate skills such as cause-and-effect, taking turns, color identification and basic arithmetic. The device has enough lights to display numbers and letters for even more complex literacy and math lessons for older students.
"LightAide is a clear example of the art of the possible and the meaningful impact digital lighting can have on children with learning disabilities," said Bruno Biasiotta, President and CEO of Philips Lighting Americas. "While LED lighting is often recognized for its energy-efficiency, the fact that it can be managed by software, engage us and impact how we feel, really lends itself to some innovative applications such as LightAide. We are pleased to have worked with the fantastic team at Perkins on a product that can help children unlock their full potential."
Available through Perkins Products, LightAide includes basic software and a starter set of 10 learning activities, a user guide, and activity workbook that ties into Core and Expanded Core Curriculum.
Source:
http://www.ledinside.com/news/2013/9/philips_and_perkins_combine_bright_ideas_to_teach_children_with_disabilities