As LED continues to evolve many specifiers continue to choose their LED accent fixtures by looking for lumens per watt or total number of delivered lumens the fixtures produce. The question the specifier should ask before selecting a fixture is to ask themselves, "How much of the total lumen produced, hit the intended target?"
Amerlux introduces FIATO, a new LED line of passively cooled high output track and recessed fixtures with focused lumens and intense center beam candlepower to ensure that the crisp white light is delivered precisely on target, bringing the true color and attention to produce, apparel and other merchandising displays.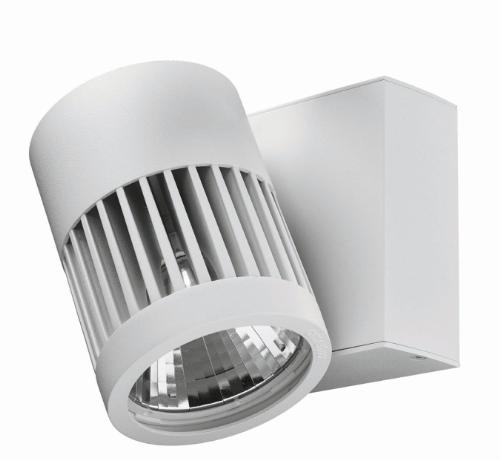 Amerlux FIATO Delivers Light On Target with New LED Track and Multiple Recessed Fixtures. (LEDinside/Amerlux LLC)
The LED luminaires is a high performance solution for retail, supermarket and commercial accent and display lighting applications. Available in color temperatures ranging from 2700-4000K, this LED luminaire has a CRI up to 95 with a long life of 50,000 hours. FIATO produces and delivers up to 2400 lumens of light from a single point LED source but even more impressive is delivering more than 32,600 center beam candlepower (CBCP) on target.
"FIATO LED accents are specifically designed as a replacement or an alternate to the 39W ceramic metal halide fixtures," said Amerlux CEO and President Chuck Campagna. "When industry pros demand the best in energy efficient lighting, they will specify FIATO for the extraordinary CBCP and narrow spot optics."
Designed to run cool, without assistance from active cooling devices, FIATO luminaires are offered as track mount or one-, two- or three-light recessed multiple LED fixtures. High output, superior color quality, a 50,000-hour life (@70%) and the Amerlux industry-leading 10-year warranty make FIATO the prime choice for supermarket and retail applications. Offered in 27, 33 and 38 watts for use on 120-277 volt systems, the fixtures are designed with 0- to 90-degree tilt and 360-degree rotation.
Using proprietary LED technology, the FIATO LED fixture is engineered with a passively cooled heat sink and a thermally isolated driver featuring electronic constant current operation with over voltage and short circuit protection that help minimize maintenance over the long life.
The die cast aluminum lamp housing and heat sink are constructed with no exposed hardware. In addition to spot distribution, narrow flood and flood beam angles are available for various applications.
FIATO is offered in Black Texture, Silver Texture and White Texture finishes - as well as custom color options - complementing nearly all design schemes.
Source:
http://www.ledinside.com/news/2013/9/amerlux_roll_out_new_led_line_with_multiple_recessed_fixtures_for_commercial_applications