The Grib diamond mine in Russia, owned by the somewhat unlikely candidate of oil supplier Lukoil, is arguably the most prospective of the new generation of diamond mines. Therefore, its launch of commercial mining earlier this year and the first auction sale that took place in September should be viewed by the diamond industry with some interest.
Significantly, production is being sold in Antwerp via spot auctions by Grib Diamonds – set up as a Belgium subsidiary of Lukoil – which may provide a benchmark for rough prices in much the way that BHP Billiton's auctions did when it was still in the market.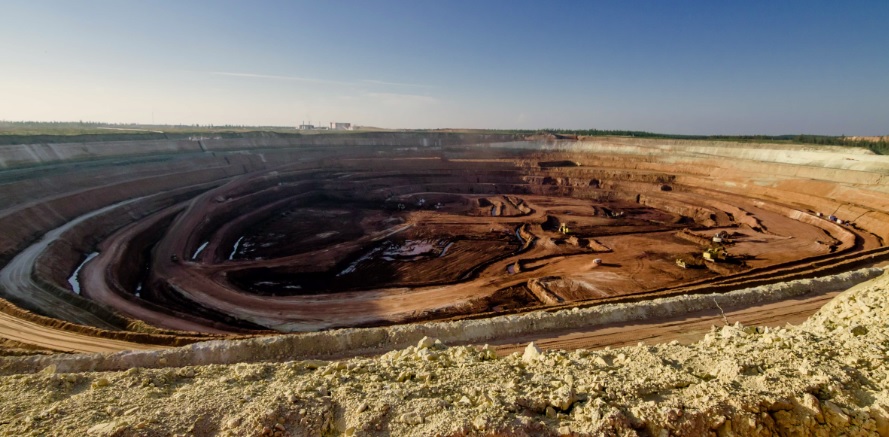 That may not be a coincidence given that two of the three-member management team responsible for setting up Grib's auction platform came from BHP Billiton's former diamond division. Clive Hopwood, formerly of BHP Billiton and De Beers, is the chief operating officer at Grib Diamonds, while Martin Leake, the former general manager at BHP Billiton's diamond division, started at Grib about a year ago as head of sales. Alexey Genkin, who is relatively new in the diamond industry with a background in private equity and operations management, completes the trio as general manager.
Leake stressed in an interview with Rapaport News that the most important aspect of the auctions at this early stage is price discovery and getting customers used to the product. "It's a totally new mine, presenting a brand new product so there's no point in saying production is similar to the Russian or Canadian goods," he said.
With production ongoing since the beginning of 2014, the mine (pictured above, courtesy of Ilan Taché) was officially opened in the presence of Russian President Vladimir Putin in June. The company offered approximately 100,000 carats of diamonds at the inaugural September auction, while Genkin notes that the second auction that took place at press time on November 20 was around twice the size.
Matching Supply & Demand
Grib Diamonds is taking a cautious approach to its initial sales as the mine slowly ramps up production, and Leake suggested it's a bit unfair to read too much into the first auction. Management declined to disclose the value of production or the total sales value of the auction.
Rather, Leake stressed that the company is committed to selling at competitive market prices and he believes the auction platform has been built to ensure just that. The process is dictated by a uniform price, multi-round, multi-split, ascending clock auction where the price is set by the highest losing bid. Leake notes that it's very similar to the price mechanism used by Okavango Diamond Company, and to that used by BHP Billiton in the past.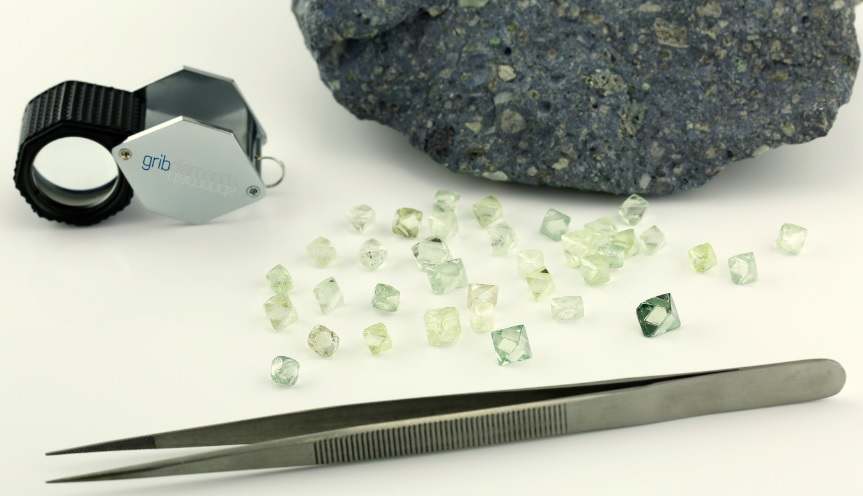 Participants can place bids online from anywhere in the world. By logging onto the website, the bidding company agrees to the terms and conditions of the sale and can then place bids during the proxy phase. After the first live round of placing initial bids, the auction progresses through multiple rounds of increasing prices so that demand is eventually matched with supply. "The basic principle is that we're trying to get competitive bidding to match the supply of diamonds that we're producing to set the price," Leake said.
Guiding Principles
As such, the company has defined its operations according to three guiding principles: to encourage competition among its customers and be competitive in its own right with its peers; to be transparent in disclosing full technical data about the diamonds to its clients and regarding the pricing and quality of goods on offer from one month to the next; and to maintain integrity through the consistency of its assortments and the company's interactions with its stakeholders and customers.
As a result, potential customers need to apply to be invited to participate in the auction. Clients apply by filling out an expression of interest form, which can be requested via the Grib Diamonds website – which was scheduled to go live this month – and through which the potential buyers will indicate which goods they're interested in. Grib Diamonds expects participants to be members of the Responsible Jewellery Council (RJC), with some flexibility on that requirement in these beginning stages. It also requests anti-money laundering paperwork, a reference letter from a bank and the company's registration documentation before approving the application.
During the auction week there are seven client rooms for viewing goods over a six-to seven-day period. So while space and time is limited, Leake explains that the company is quite efficient at getting as many customers as possible in to see the goods. At the same time, Grib Diamonds intends to keep the auctions fairly exclusive, using an invitation-only format that keeps it competitive.
The company plans to hold 10 sales in 2015 – although an exact schedule is yet to be published, and two more this year. At some point, Leake said that Grib Diamonds may introduce sales via long-term contracts.
Lukoil Returns
For now, however, or at least through the November and December auctions, both the company and its customers are becoming accustomed to production and the auction platform.
Therefore, sales in 2015 are expected to provide a better indication of the mine's prospects. Grib Diamonds expects to sell about 2.3 million carats next year and sales are forecasted to increase thereafter as production is projected to reach the mine's capacity of 4.5 million carats per year in 2016 with an estimated life of around 15 years. While the company will not be publishing sales results, it is hoped that periodic updates will be included in Lukoil's earnings reports.
Optimizing production volume and pricing at its auctions will be key to providing Lukoil with a return on the capital of an estimated $1 billion that it invested to develop the mine. Lukoil started to develop the project in 2008 having acquired a majority stake in 2001 in Arkhangelskoe Geologodobychnoe Predpriyatie (AGD), which along with its Grib license, also had oil and gas exploration rights.
Still, Grib remains a non-core asset in the Lukoil portfolio, and despite the substantial upside potential for its sales growth, analysts stress that the diamond division remains a relatively meaningless part of the Lukoil group. Consider that Lukoil, which accounts for an estimated 2 percent of global oil output, had revenue of $141 billion in 2013 and net income of $7.63 billion.
Alexey Kokin, an analyst at Uralsib Financial Corporation who covers Lukoil, noted that the group has tried to dispose of the Grib mine in the past but any prospective deals fell through. He added that if the price of oil stays at its current lows of around $75 a barrel for an extended period, Lukoil might try again to sell it in order to raise cash. The natural buyer should be ALROSA, which has mines not far from Grib and continues to seek ways to boost growth through higher production volume.
At least for now, no deal is on the cards and Leake stressed that Grib Diamonds is committed to the industry for the long term. That should be a positive development for the industry as it provides a new player in a small diamond mining space.
It's not often that a new mine is introduced to the diamond market, and Grib is as big as a new diamond mine is going to get in the next decade or two. Diamond manufacturers will be excited at the prospect of having new goods up for grabs from a new supplier with stated goals to be competitive, transparent and to operate with integrity. Then again, they might be keeping an eye on oil prices for the next move from this unlikely source.
Source:
http://www.diamonds.net/News/NewsItem.aspx?ArticleID=48622