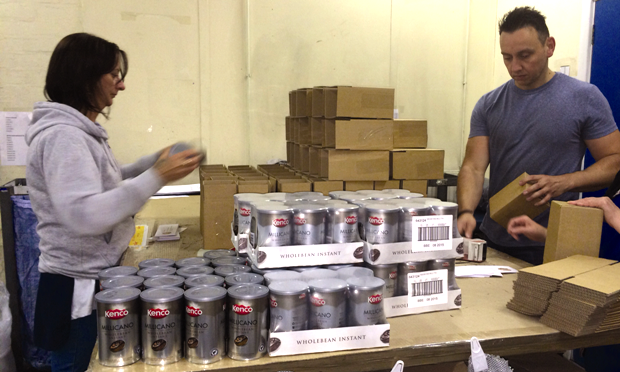 The contract packing business is often seen as sizeable automated production lines packing products for brands. Blackburn-based Granby Marketing Services claims to be more diversified in the nature and method of its business than many of its competitors – using manual labour as much as automated lines.
Founded in the 1950's, Granby was originally a medium-sized tailoring business. Through its sizeable warehouse it diversified into marketing services for blue-chip clients, luxury brands, promotional marketing agencies and public sector organisations. In the 1990's the company began to take on more contract packing business.
In 2000 the current chairman Stephen Bentley acquired the business from the Omnicom Corporation, its American owners, and since then turnover has grown from £1.5m to £5.2m.
The company provides outsourced services including mail fulfilment, warehouse and packing services and a comprehensive contact centre offering.
Following a management buy-out last year, Joanne Varey became majority shareholder as well as managing director. The £3.8m buy-out was funded by a combination of business loans and personal investments.
Current clients include Compare The Market, L'Oreal, Sainsbury's, Nespresso, TH Waites, and the Department of Education.
Granby employs 90 full time staff, but seasonal workers can push that up to a 180-strong workforce. Turnover from January-December this year is expected to reach £6m.
"We proudly employ locally from the community, and do not use agency workers," Varey says.
"Blackburn has been very good, and the location is good – it's not on an industrial estate so easily accessible. Unfortunately, the town has high unemployment which, in turn, means we have resources available to us. We created 11 new jobs last month – on the back of seasonal work."
A big part of the business is labour-intensive hand fulfilment work, with staff packing products and paperwork as part of an assembly line.
Varey says this gives the company flexibility: "We can tailor the work to the customer's requirement – we don't always rely on a machine that can usually do only one thing.
Winning business
Varey has put some new procedures in place during her time as managing director. While historically the business has relied on organic growth, since the buy-out she has been keen to focus on adding more business.
She recruited a head of business development to change the approach in sales.
"Historically we concentrated on just what we do, but now we are looking at what clients want or need and what else we can do for them.
"It's more like a value proposition rather than just a service-led conversation. We don't want to be seen as a just a commodity purchase – as contract packing often is. We try to add value to everything we do, and recognise contract packing is very price-driven and very commodity based. We try to generate leads through PR, thought leadership, and sponsorship of industry bodies where we know people in the industry would go to," she says.
Additionally, the company's website has been redesigned, with social media feeds added. "We have seen a lot more inbound enquiries – the better description of our services and of our credentials helps. But a lot of our business comes through word of mouth – we have a good reputation in our industry. It's all about working relationships – people buy from people. It's about networking."
Acquisitions and investment
Varey says Granby is constantly looking out for investment and acquisition opportunities. "It's about growth and where growth can come from. The problem is contract packing is often at the end of the food chain – the last link – even though we often deal directly with our clients' consumers.
"We are always trying to get up the food chain – that could be through acquisition of a business, so that we are more involved in the creative stage in the process. We look at opportunities project by project."
Granby invested in equipment for its call centre to manage client relationships. The company has developed bespoke SCOPe software which gives clients up-to-date and completely transparent reporting.
"We now use a swipe card system so any employee who works on any part of a job swipes in and out to record all the data."
Market conditions
The image of the sector is changing as brands see how much value contract packing brings, particularly for big cosmetics groups, according to Varey.
"Contract packing and below the line advertising work well as brands have to work harder to retain that market share."
She says most of the business for which contract packers pitch is in London – 95% of Granby's client base is in London – with brands and creative agencies also predominantly based in the capital.
"We are competitive on costs, and have account representative visiting London every day of the week; and we have a sales representative based in London to target the creative agencies. Relationships have to be built and maintained so this is important."
Varey says packing firms have to be more diversified to win business.
"At Granby we are a multi-channel contract packer so can adapt to meet many potential customers' requirements. Start-up businesses are commonly bringing their products through this sector.
"There are lots of new businesses using contract packing now – we see the levels of enquiries increasing. It is a vibrant market."
Source:
http://www.packagingnews.co.uk/in-depth/community-copackers-new-owners-add-value/