When it comes to pricing and market expectations, 2015 was another tough competitive year for packaged LED vendors, with challenges in both backlighting and lighting, comments Jamie Fox (principal analyst for Lighting and LEDs at IHS Technology) in an analysis and commentary on the latest packaged LED company rankings (excluding Epistar, San'an and other die vendors) from the market research firm's LED Intelligence Service.
The US dollar was much stronger in 2015 than 2014 – against almost every major currency – which largely explains why packaged LED revenue fell so much last year, says IHS. Measured in Yen and Euro, the packaged LED market grew 5% and 10%, respectively. (Had exchange rates remained the same as they were in 2014, the market would most likely have been much flatter measured in US dollars.)
As global LED revenue fell 8% in 2015 Lumileds was the only LED maker ranked in the top 10 to report positive growth in 2015, gaining share as well as ranking position. Despite the firm suffering significant uncertainty last year (as Philips attempted to sell the business), Lumileds has surpassed Samsung in every quarter since fourth-quarter 2014. The firm continues to offer a strong competitive position in automotive LED, general lighting and mobile-camera flash categories, and its market share continues to benefit from having only a small position in the soft backlighting market, which includes mobile phones, notebooks, tablets and monitors.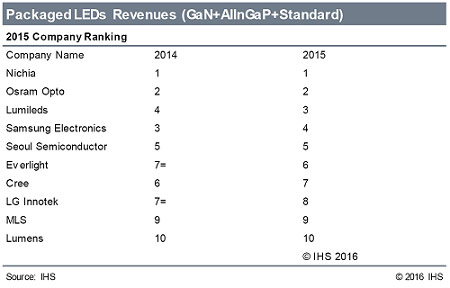 Revenue share for Cree, LG Innotek and Everlight declined in 2015 compared to 2014. However, Everlight improved its ranking position, while the others did not. Everlight's rise comes despite losing market share, because the revenues of Cree and LG Innotek fell even further.
Cree and the major Korean players all experienced double-digit revenue declines in 2015. Cree is increasingly focused on its lighting business, as its component business is no longer growing as quickly as it once was. The firm has long positioned itself – with some justification – as a higher-quality vendor than others, says IHS.
While this strategy has suffered as the market has commoditized, Korean companies managed to position themselves successfully as the low-cost option in general lighting in 2012 and 2013, notes the market research firm. Even so, this strategy faced difficulties in 2014 and 2015, as MLS and other Chinese companies offered even lower prices with similar quality. In 2015 Samsung, LG Innotek and Lumens were caught in the middle – offering neither the lowest price nor the best quality – with no obvious business strategy to address the issue.
Seoul Semiconductor is a pure-play LED company that is committed to the market and has more experience in LEDs than the other major Korean players, says IHS. While the firm gained share in 2015, revenue fell slightly. Japan's Nichia, Germany's Osram Opto Semiconductors and MLS all maintained their share in 2015, declining slightly in revenue (in line with the market).
Source:
http://www.semiconductor-today.com/news_items/2016/apr/ihs_010416.shtml