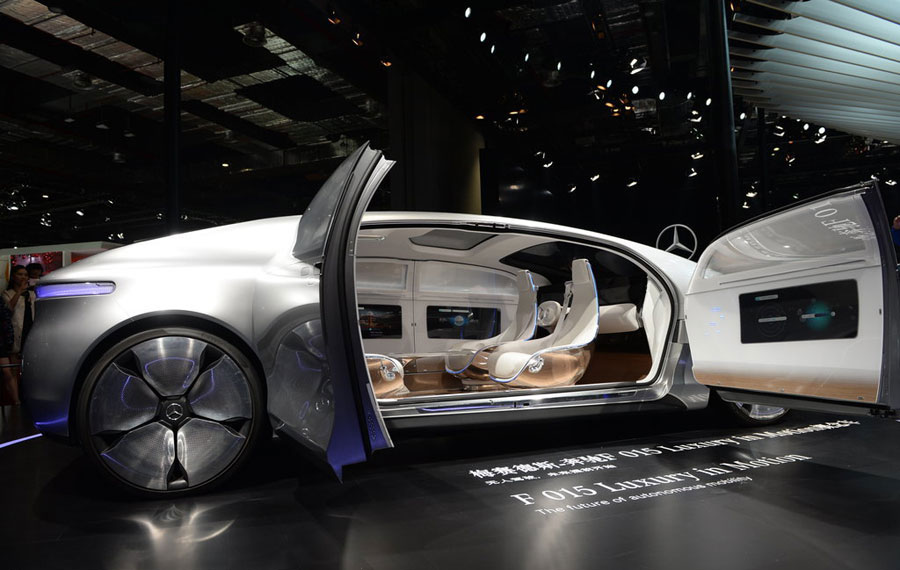 Eco-friendly cars and self-driving technology became the hot topics for the international automobile industry in 2015.
In January at Detroit's North American International Auto Show, over 40 new vehicles were unveiled.
They included a new Chevrolet Bolt by General Motors, an attempt to upstage Tesla in the electric vehicles market.
Ford stunned crowds with their new GT, a high-performance super-car.
Aaron Bragman is an auto analyst at Cars.com.
"There's no one theme except that the industry is back."
At London's 3D Print Show in May, automakers, food creators and furniture designers were demonstrating how they're pushing the boundaries with so called 'additive manufacturing'.
British sports car makers Morgan have started using 3D printing technology to build and produce complex geometries, which would be impossible to make by hand.
Simon Brandon, a marketing manager from Stratasys.
"They can print that out, test it, put it on a car, drive around with it, go; 'I know, I need that a little bit wider, a little bit narrower', whatever it is. And really get the design right."
In September, a rocket-powered car aiming to smash the World Land Speed record by travelling at a thousand miles per hour was unveiled in London.
The 'Bloodhound' car's motor produces 135,000 horsepower - over six times the power of all the Formula 1 cars on a starting grid put together.
The current World Land Speed Record was set by the British Thrust SSC team in 1997 achieving around 763 mph.
Bloodhound's project manager, Richard Noble said it's less like driving, and more like flying.
"It's a bit like flying an aeroplane. One of the difficulties of flying an aeroplane is you must never let the aeroplane get ahead of your thinking - right?"
In October, Japanese carmakers Toyota were busy testing their automated self-driving car in real Tokyo highway traffic.
It safely entered the motorway and changed lanes without human intervention.
The prototype car was a modified Lexus GS and featured cameras, sensors and accurate road map data.
Also in October, Japanese auto makers Toyota, Honda and Lexus all debuted new concept vehicles with lower carbon technologies at the annual Tokyo Motor Show.
US car makers squeeled into the Dubai International Motor Show in October, hoping to capitalise on growing auto sales in the Emirate and wider Gulf region.
The new Cadillac 2017 XT5 was expected to be the first in a series of four luxury crossovers.
But it wasn't just Cadillac, the motor show acted as a platform for over 15 global car launches and 120 regional debuts.
Source:
http://english.cri.cn/12394/2015/12/30/2743s910719.htm