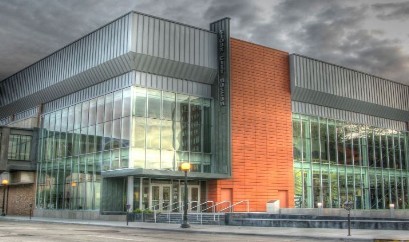 Sioux City Public Museum
Lighting Science Definity LED lamps were chosen for installation in the Sioux City Public Museum to help bring the museum galleries into the modern era during a recent retrofit operation. The new technologies installed versus traditional halogen technology, the museum will be saving 110,760kWh annually.
The museum needed to upgrade their facilities, including their lighting, in their newly refurbished home, a re-purposed J.C. Penney Department Store. Hilferty Museum Planning was contracted to design the exhibit spaces including the lighting design for a 12,000 sq. ft. permanent gallery, 7,500 sq. ft. temporary gallery and other areas for a combined 55,000 sq. ft.
To provide the best solution, Hilferty decided on Lighting Science's Definity PAR38 and MR16 LEDs, best known for their superior lighting quality and energy efficiencies, to meet the lighting design needed to suit the architectural style of the building.
"We are proud to have an LED Lamp that provides superior lighting quality and meets the challenging requirements of a retro application, like that of the Sioux City Public Museum," said Jeremy Cage, Lighting Science CEO. "The energy efficiency of the Definity family of lamps also provides the museum with a way to save money."
The Definity PAR38 and MR16 are robust LED lamps from Lighting Science that reduce energy consumption and operating costs by up to 80 percent and offer maintenance-free operation that lasts up to 25 times longer than conventional lighting. The patent-pending optical design achieves smooth beam pattern to achieve a warm room-filling glow for general illumination applications with the instant on lamps dimmable to 5 percent of light on most dimmers.
By using a variety of beam angles and warm white color temperature from the Definity lamps, the museum exhibits now capture the attention of viewers as intended and creates areas that truly engage visitors.
"The essence of the new museum is dramatically different," said Steve Hansen, Director of the Sioux City Public Museum. "The new lighting brings the museum into the modern age and that was our ultimate goal. Our team could not be more pleased with Hilferty's direction of the project and their decision to use LED lamps from Lighting Science."
About Lighting ScienceLighting Science Group Corporation (LSCG) is a global leader in the design and development of lighting solutions that are environmentally friendlier and more energy efficient than traditional lighting products. Lighting Science is on a mission to improve the planet and its people with award-winning, innovative LED lamps and lighting fixtures. Conceived, created and built by some of the best people in the lighting field, these products help save energy and reduce the carbon footprint without sacrificing light quality.
Source:
http://www.ledinside.com/news/2013/5/lednews_201305101615