Soraa Inc of Fremont, CA, USA, which develops solid-state lighting technology built on 'GaN on GaN' (gallium nitride on gallium nitride) substrates, has launched a complete line of MR16 LED lamps powered by its third-generation GaN-on-GaN LED. Featuring full-visible-spectrum light, the new MR16 LED lamps feature a 30% improvement in efficiency, suiting applications in restaurants, retail, high-end residential and office environments where light quality and smooth dimming are essential.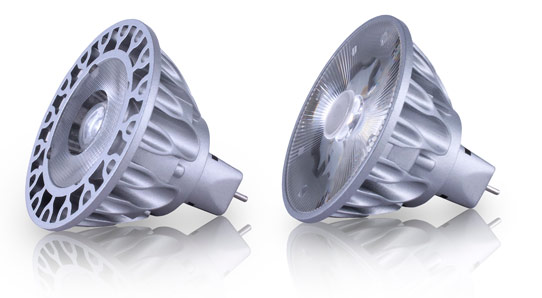 Picture: Soraa's new MR16 LED lamps.
The new lamps feature the firm's point-source optics for high-intensity and uniform beams; and unique Violet-Emission 3-Phosphor (VP3) LED technology for rendering colors and whiteness. Utilizing every color, especially deep red emission, VP3 Vivid Color renders warm tones accurately, and achieves a color rendering index (CRI) of 95 and deep red (R9) rendering of 95, says the firm. Also, unlike blue-based white LEDs without any violet/ultra-violet emission, the VP3 Natural White is achieved by engineering the violet emission to properly excite fluorescing agents including natural objects like human eyes and teeth, as well as manufactured white materials such as clothing, paper and cosmetics.
As a replacement for halogen lamps, Soraa says that its true retrofit-sized MR16 LED lamps are fully dimmable and suitable for enclosed, non-ventilated indoor and outdoor fixtures — where other LED lamps struggle to perform, the firm claims.
The LED lamps are available in 50W to 75W halogen equivalent light output; 10°, 25°, 36° and 60° beam angles; 2700K, 3000K, 4000K and 5000K color temperatures; and 95CRI and 85CRI. Also, Soraa's 10° lamps work with its magnetic accessory SNAP System. With a simple magnetic accessory attachment, beam shapes can be altered and color temperature can be modified.
Source:
http://www.semiconductor-today.com/news_items/2014/OCT/SORAA_061014.shtml