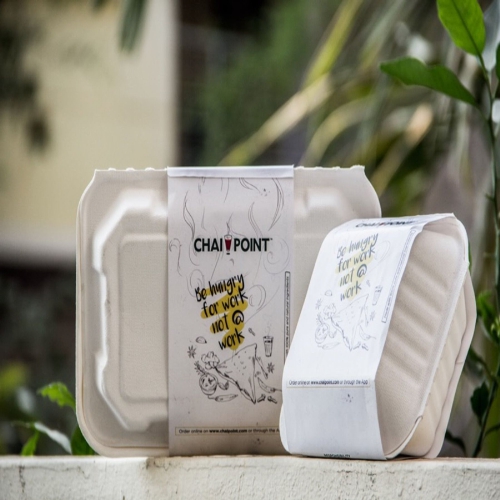 India based tea retail chain, Chai Point, in partnership with two companies, have introduced 100% biodegradable food boxes to replace the traditional plastic boxes and containers used for food deliveries.
The firm said it has started using the biodegradable food boxes, plates and even cutlery for their delivery business, Chai-on-Call.
Chai Point supply chain head Yaduvir Singh said that the firm introduced the biodegradable food packaging as part of its efforts to create 'sustainable and green supply chain', which involves use of environment-friendly initiatives in order to reduce waste generation.
Developed using bagasse, the new packaging is the fibrous matter that remains after sugarcane stalks are crushed to extract their juice.
The biodegradable packaging, which has been developed in partnership with another start-up venture Ecoware Solutions, has also been approved and accredited by international testing labs and US Department of Agriculture (USD).
Ecoware Solutions CEO Rhea Singhal said: "Instead of making lofty CSR claims, Chai Point has invested in Ecoware packaging that replaces plastic and paper at all their outlets.
"Ecoware tableware, made from 100% plant biomass, biodegrades naturally into the soil in a short period and solves waste disposal problems.
"Ecoware is proud to partner with Chai Point to further their mission of using 100% natural ingredients and encouraging sustainability."
The Chai-on-Call delivery service has been launched by the firm earlier this year.
The firm said that the core innovation in this delivery service was the heat-retaining disposable flask, which can retain heat for 45-60 minutes.
Image: Chai Point's 100% biodegradable food boxes. Photo: courtesy of Mountain Trail Foods Pvt. Ltd/ PR Newswire photo.
Source:
http://recyclable.packaging-business-review.com/news/chai-point-introduces-100-biodegradable-packaging-for-food-industry-100316-4835317