Packaging manufacturer Parkside has unveiled a protective packaging solution, Rockpocket, designed for the transport of high value, delicate items in a compact format.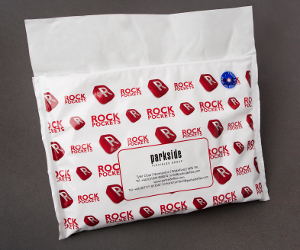 Developed by the Advanced Packaging Expert (APEX) innovation team at Parkside, the flexible laminated bag comprises polystyrene beads between its outer layers, requiring no additional packaging for high level of protection, thus reducing packaging waste.
Parkside new product development director Steve McCormick said: "More people than ever before are shopping online and Rockpocket offers the ideal solution for online retailers who want to ensure their customers receive items in perfect condition.
"The design is totally versatile, creating a protective packaging around any shape of item and we can print bespoke high definition graphics and branding on pack to meet customer requirements."
The firm said that the 'one pack fits all' solution offers a lightweight and compact solution for the transportation of items.
Available in multiple sizes, the pack is made from up to 90% air to reduce transportation weight and the associated carbon footprint and costs.
Parkside sales head Paula Birch said: "The branding and packing efficiency opportunities that Rockpocket offer are significant and a number of online retailers are exploring it for their next generation packaging solution as a result."
A vacuum extraction pump is applied to the pack to evacuate the air between layers, which create a solid pack that protects goods from damage during transit.
Parkside is currently developing a valve less Rockpocket pack to further improve its environmental credentials.
In particular, the valve less Rockpocket pack will comprise 100% compostable materials, allowing the pack to compost at the end of its service life.
Image: Parkside's Rockpocket protective packaging solution. Photo: courtesy of Parkside.
Source:
http://protective.packaging-business-review.com/news/parkside-unveils-rockpocket-protective-packaging-solution-200416-4870112