A number of LED lamps manufactured by Lighting Science Group are the subject of an official recall due to potential fire risk, although the relevant manufacturing issues were resolved in March 2011. Lighting Science Group Corp. (LSGC), an LED lighting manufacturer based in Satellite Beach, FL, has issued a recall notice for some of its LED lamps that were manufactured more than 2 years ago.
As discussed in detail below, the problem was attributed to several issues with the power supply sub-assemblies used in the lamps. An LSGC spokesperson told LEDs Magazine that the problems were resolved by March 2011, and therefore don't affect newer lamps.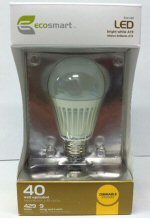 The recall
The lamps affected by the recall include products sold under LSGC's Definity brand, as well as private-label products manufactured by LSGC for Home Depot (sold under the EcoSmart brand), Osram Sylvania and Westinghouse.
The recall, issued in cooperation with the US Consumer Product Safety Commission (CPSC), includes about 554,000 units.
The CPSC says that the hazard is that "the bulbs can overheat during use, posing a fire hazard." LSGC says that "the bulb can separate, posing a possible fire risk to persons and property."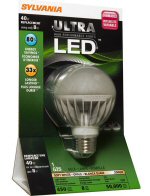 The lamps were manufactured in China, with a small number of products having final assembly in Florida or Mexico. The manufacturers are listed as Lighting Science Group and Citizen Electronics, with the latter company having provided the chip-on-board (COB) LED arrays incorporated into the lamps.
The affected models are A19, G25 and R20 (also known as PAR20) LED lamps, manufactured between October 2010 and March 2011. These are 120V LED lamps, with a power consumption of 6W, 8W or 9W, which were sold as being equivalent to 40W or 50W incandescent lamps.
According to the CPSC website, Lighting Science Group is aware of 68 incidents of product failures, eight of which were accompanied by visible smoke or fire conditions. The incidents include damage to light sockets, melted fixtures, burned rugs/carpet/ floors, damage to a circuit and to a lamp. There have been no reports of personal injuries."
Consumers are advised by the CPSC to stop using the relevant products, and to contact LSGC.
The problem
An LSG spokesperson told LEDs Magazine that an extensive analysis was conducted by LSG on all products that were returned. The company concluded that several conditions, occurring concurrently, had contributed to the reported failures.
These conditions, which all related to the power supply sub-assemblies in the lamps, were: A void or absence of thermally-conductive potting compound surrounding the power-supply load resistor. This resulted in a lack of adequate thermal management, which in turn created an elevated temperature condition that resulted in physical damage to the lamp. The power-supply PCBs were susceptible to flexing. This resulted in mechanical stress being applied to one of the capacitors during the assembly of the lamp. Short-term, non-compliant assembly practices at the contract manufacturing facility in China.
Source:
http://ledsmagazine.com/news/10/3/17