Because of weak demand for all-in-one PCs, worldwide all-in-one ((AIO) PC shipments fell 4.8% on year to total only 12.11 million units in 2016, the third consecutive year of on-year declines. However, the shipment volume is expected to return to growth in 2017, up 1.5% on year, as the market starts to stabilize after a three-year decline, according to Digitimes Research.
Despite the shipment drop, the share of all-in-one PCs for total worldwide desktop shipments increased 1pp (percentage point) from 10.3% in 2015 to 10.4% in 2016 since the all-in-one PC shipment decline was smaller than that of desktops, whose shipments fell 5.3%. Worldwide desktop shipments totaled 116.8 million units in 2016, Digitimes Research figures showed.
For 2017, Intel released its new Kaby Lake-based processors for desktops in January, with the new processors only supporting Microsoft operating systems starting at Windows 10. Although the new processors are expected to prompt some enterprises to replace their all-in-one PC products, they will only have a limited contribution to growth in the AIO market, said Digitimes Research senior analyst Betty Shyu.
Shyu expects the AIO share of total PC shipments to rise to 10.9% in 2017 since worldwide desktop shipments will suffer a 3% on-year decline to reach 113.3 million units, while all-in-one PC shipments will enjoy a slight on-year growth for the year. In 2018, the percentage is expected to rise further to surpass 11%.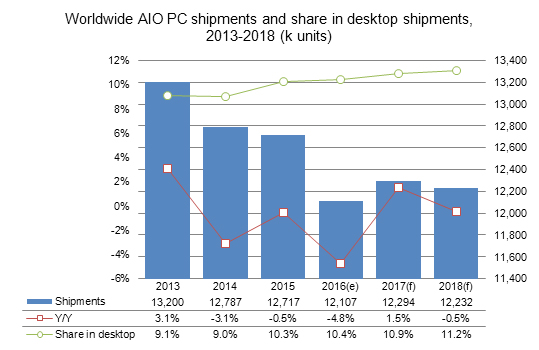 Source:
http://www.digitimes.com/news/a20170210VL201.html