On December 22, 2014, FAW 2015 Business Annual Conference was held successfully in Qingdao Jimo new base. 1300 Jiefang dealers, service providers and special vehicles partners from all over the world participated in the meeting.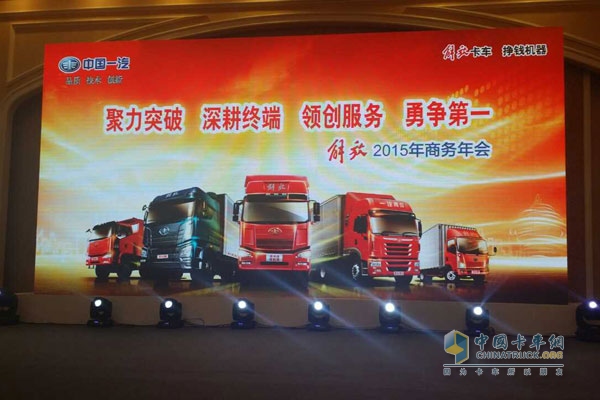 Sales of Jiefang full year 2014 in heavy trucks is 167,000 units, and that in light trucks is 11,000 units. Market share is continuous improvement in overall. In 2015, target of FAW Jiefang sales is 190000 vehicles which include 170,000 units of heavy trucks and 20,000 units of light trucks, that market share targets to 17.9%. According to general manager of FAW sales Jing Qingchun's prediction, in 2015 the heavy truck industry demand total 950000 vehicles, 3% year-on-year declined; light truck market is expected to total 980000 vehicles, compared to the same period in 2014 is the same level.
The whole series of Jiefang products upgrade to the 2015 generation, raising the overall reliability, comfort, powertrain and other performance. Jiefang plan to fully develop the J6 LNG product line based on the J5 LNG products, to provide users with more choices in the natural gas trucks.
Source:
http://www.chinatrucks.com/news/2014/1223/article_5621.html