Sacmi is set to introduce new range of Kube modular labelling machines at the Enolitech 2016 in Verona, Italy, which will be held from 10 to 13 April.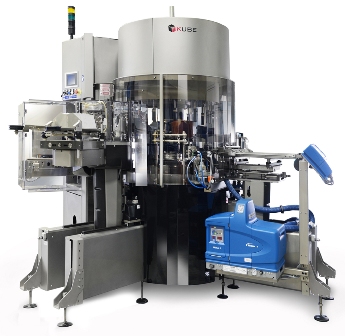 The new Kube labelling machines have been developed to meet the needs of winemakers.
Kube K30 720 9T labeling unit, which includes two self-adhesive labelling stations and one cold glue station, can turn out up to nine thousand bottles per hour.
It features labelling stations on the outside of the carousel, and will accept up to five stations for up to five separate label applications in a single bottle passage through the machine.
The new Kube K30 720 9T labeller is installed with a universal screw feeder and brushless motor to effectively handle all bottle types from a minimum diameter of 60mm to a maximum diameter of 120mm.
The machine features advanced management software, machine-mounted electrical control panel and touch screen, and can be controlled remotely from any device connected to the company network.
The labelling stations, including self-adhesive Kube ADH 40 and cold glue Kube CG 3/3, have been designed to use for different applications, as they can be adjusted according to the bottle sizes in use.
Image: Sacmi to launch new Kube modular labelling machines. Photo: courtesy of Sacmi.
Source:
http://machineryandequipment.packaging-business-review.com/news/sacmi-to-unveil-new-kube-labelling-machines-for-winemakers-090316-4834176