Birmingham-based direct mail fulfilment and print management services provider, Baker Goodchild, has made further investment in new equipment, upgrading some of its printing equipment and investing in a new mailing machine as the company continues to move forward and add to its growing plant list and production capabilities.
The latest purchase includes three Ricoh Pro 8120S laser printers, an AstroJet 3800 inkjet printer, and a new Kern 2500 Multimailer mailing and inserting machine, providing further flexibility and output for Baker Goodchild's clients.
The Ricoh Pro 8120S is a cut-sheet advanced technology printer, capable of speeds up to 135 pages per minute and a 1,200 x 4,800 dpi resolution capability, ideal for reports, booklets, newsletters and many other print applications. The Pro 8120S also has the innovative vertical cavity surface emitting laser (VCSEL) technology, which in combination with a mechanical registration provides a precise front-to-back registration capability. It can also handle 8,850 sheets within its paper capacity, on paper sized up to 330mm x 487mm, on stocks up to 300gsm.
The AstroJet 3800 represents a further significant investment for Baker Goodchild, and is a high speed printer that can produce up to 30,000 pieces per hour at 600 x 600 dpi quality, printing in one pass, making it ideal for bulk mailing applications. The AstroJet 3800 is also an additional machine to accompany one that was purchased in April last year.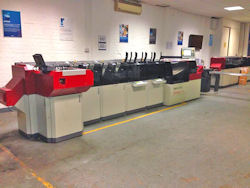 The Kern 2500 is a high speed document mail finishing and inserting system, capable of handling a combination of processes, including both vertical and horizontal folding as well as the processing of various sizes and thicknesses due to its advanced technology. The folding and feeder stations can all accommodate high stack capacity, and can be loaded with inserts, with speeds of up to 12,000 envelopes per hour.
These latest investments follow the recent purchase of an additional Konica Minolta Bizhub Pro C6000L, and expand further Baker Goodchild's cut-sheet print equipment list, which already includes three Ricoh Pro 906EX (5400) machines, a Xerox 6060 colour printer, and HP 4700 DN and Sharp MX machines, all of which add to the company's personalisation capabilities.
Baker Goodchild's existing print application equipment capabilities also include two Bizhub Pro C6000L's, two Ricoh Pro 1106/1356EX high-speed mono printers, together with a cluster of Ink Jet printers, which range from a Rena 630, through to two Pitney Bowes DA75S shuttle head's, two Pitney Bowes DA95F's, a Domino Jet Array, an Astrojet 3600 and a CITOH S4 Thermal Label printer.
All of which are capable of providing a range services and print applications for postcards, booklets, paper and envelopes for Baker Goodchild's clients.
Commenting on the latest purchases of new printing and mailing equipment, Managing Director Lorraine Burnell stated, "The direct mail industry is becoming very demanding and as a growing mailing house we are constantly investing and upgrading our machinery. The output that we had from our previous Ricoh machines was great however when we enquired about the Ricoh Pro 8120S we were impressed with the capacity, output and laser cut technology utilised within these machines. We find our current printing and fulfilment machines constantly in use fulfilling our customers' expectations so it made sense to purchase additional machines to keep the work flow consistent and maintain the deliverability for our customers mailing on time to reach their targeted audiences on time."
Based in the heart of Birmingham, close to the city centre, Baker Goodchild is a privately-owned company with over 20 years extensive experience in providing print, mail and postage solutions, throughout the UK and Internationally.
Source:
http://www.officesuppliesnews.co.uk/news/baker-goodchild-makes-further-investment-in-new-print-equipment/