The historic Castle Museum in Michigan brings its French Revival style architecture to life with Lithonia Lighting D-Series LED floodlights for less than one dollar per night.
The Castle Museum in Saginaw, Michigan is now illuminated with 19 Lithonia Lighting® D-Series LED Flood Luminaires from Acuity Brands Inc.. The museum partnered with Saginaw Sees the Light, a local organization devoted to illuminating Saginaw's architectural treasures, to showcase the facility's historic architecture.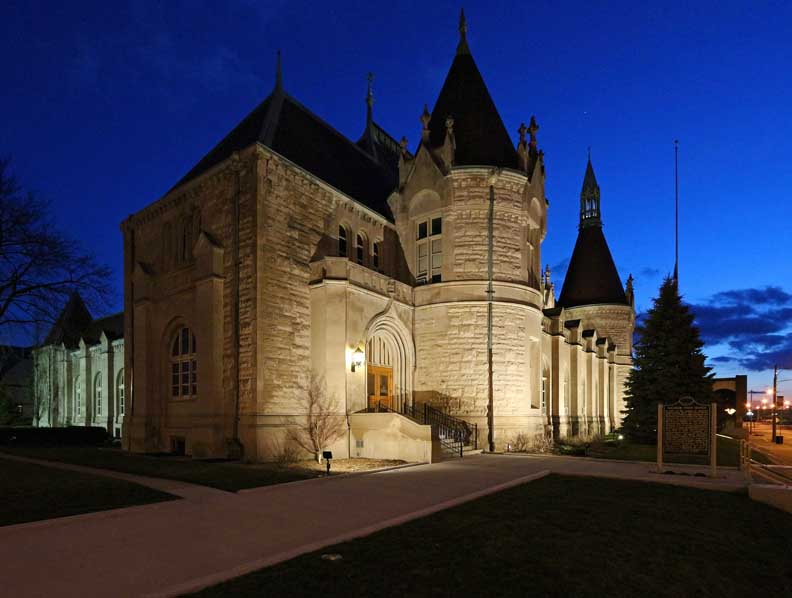 The newly installed LED floodlights give the 40,000-square-foot facility a definitive nighttime presence at a fraction of the cost of traditional sources. Using only 41 watts per fixture, the Saginaw Museum can now be illuminated for less than one dollar per night.
"The building's 19 new LED floodlights consume less than 780 watts," said Brad Dobbs, Lithonia Lighting Value Stream Manager. "The energy savings are incredible with the D-Series floodlight. Additionally, without lamps to change, the floodlights maximize maintenance savings."
"The fixtures are perfect because they are barely noticeable, and the real true spotlight is on the architectural features of the building," said Ken Santa, Castle Museum President and Chief Executive Officer. "We were thrilled beyond belief. The lighting significantly enhances the historic architecture and makes it possible to enjoy it 24-hours a day."
D-Series LED flood luminaires are sleek and stylish and distribute light to a target area using a choice of seven different optics. While the D-Series LED Flood Luminaire, Size 1, was used for this application, Lithonia Lighting has two larger sizes of the D-Series LED floodlights that deliver up to 12,500 lumens.
D-Series LED Flood Luminaire, Size 1, delivers up to 3,675 lumens and has an expected service life of more than 20 years. The floodlights offer energy savings of approximately 80 percent versus comparable metal halide luminaries.
Source:
http://www.ledinside.com/news/2013/5/acuity_brands_illuminate_castle_20130507