The brand of paint used in a new home can influence shoppers' perception of quality and their decision to buy, according to a national poll of nearly 10,000 households by Lifestory Research.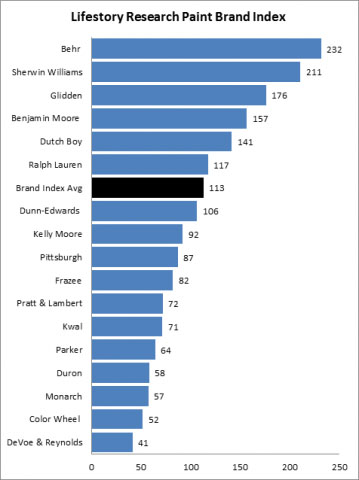 The Lifestory Research "2012 Residential New Home Shopper Brand Study" evaluates consumer attitudes from 9,565 households across several different product classifications, including paint, to determine how brands influence home-shopping behavior. Behr brand paint ranks highest in brand awareness, perceptions of quality, importance of product class brand and overall impression of the brand manufacturer, according to survey results.
Furthermore, 58 percent of home shoppers indicate the brand of paint impacts how they evaluate the purchase of the home. "Many sellers do not consider the importance that paint brands play in a home buyer's decision criteria," said Lifestory Research president and CEO Eric Snider. "We find that sharing the brand name of the paint used in the home could play an incremental role in the ultimate decision a consumer makes in regards to a home purchase. While we do not believe any customer makes a purchase decision solely on the paint brand, the results suggest that the inclusion of the paint brand in the sales process of a home could add value to the overall assessment of a home's quality."
In a shift away from product usage and satisfaction research, Lifestory Research's series of national investigations focuses on how brands influence the purchase behavior of home owners. "We have seen a fundamental shift in consumer psychology that has occurred in response to the massive social revolution that has taken place over the last several years," Snider said. "Consumers are no longer referencing customer advocacy organizations for product information; instead, people are turning to their peers, friends, and digital social networks to garner opinions. As a result, we have seen brands rise in importance in the consumer purchase process."
New-home shoppers' perceptions of paint brands averages 113 on a 400 point scale. Shoppers evaluated 18 paint brands along four dimensions:
· Brand Awareness - a measure of aided and unaided awareness of each brand included in the study. A brand that is top of mind to a consumer, as well as one that is recognized by the consumer, plays a central role in brand equity. Higher brand awareness results in a greater perception of the value of a brand.
· Perceptions of Quality – a well-established criterion in brand valuation is the perceptions consumers hold in regards to the perceived quality of the items produced by a specific brand.
· Importance of Brand – product classifications have consumer segments that identify that the product is important to them in their purchase decision. In the measures included in this study, value is assigned the importance paint plays in the home shoppers' decision criterion.
· Impression of Brand – a measure capturing the essence of how consumers see the brand. This measure provides additional depth to measures that support the calculation of brand equity.
Behr ranks highest on the brand index with a score of 232 and performs particularly well in all four dimensions of brand equity, survey results indicate. Following BEHR in the rankings are Sherwin Williams (211), Glidden (176), Benjamin Moore (157), Dutch Boy (141), Ralph Lauren (117), Dunn-Edwards (106), Kelly Moore (92), Pittsburg (87), Frazee (82), Pratt and Lambert (72), Kwal (71), Parker (64), Duron (58), Monarch (57), Color Wheel (52), and DeVoe & Reynolds (41).
The study finds that measures of top-of-mind (unaided) recall are relatively low overall for the product class, with only three of the brands being recalled by consumers without any prompts. That is, when consumers are asked in an open end-format to share the paint brands that come to mind, only BEHR (61 percent), Sherwin Williams (46 percent) and Glidden (35 percent) exceeded 20 percent recall among consumers. The principal of "top-of-mind" recall is that brands that are easily recalled have greater propensities to capture market share, since consumers actively can recall the brand. On the other hand, when home shoppers were provided a list of all the paint brands measured in the study, Lifestory Research found that the majority of customers were familiar with the brands of Sherman Williams (93 percent), Behr (86 percent), Glidden (83 percent), Dutch Boy (81 percent), and Benjamin Moore (79 percent).
In this study, Lifestory Research also found that 50 percent of the quality rating of a paint brand could be explained by the amount of people who could recall the brand unaided. The percentage of people who could name paint brands unaided was directly tied to the consumer's perception of quality. Higher unaided brand recall generated a higher perception of quality.
Headquartered in Newport Beach, California, Lifestory Research is a custom marketing research firm dedicated to helping clients evaluate their brand and strengthen their understanding of their customers. For more information go to www.lifestoryresearch.com.
Source:
http://www.coatingsworld.com/contents/view_breaking-news/2012-12-07/lifestory-research-reports-new-home-shoppers-favor-behr-paint-branddue-to-brand-recognition-and-perceptions-of-high-quality/